About the artist
I am Maria Selkou and I was born in Athens, Greece. The strongest memories in my mind have the intense blue tones of the summer holidays next to the sea. When I moved to the Netherlands in 2010, different blue tones enhanced my palette; dramatic skies and Delft blue ceramics made the connection between these two seemingly different cultures through that color: cyan.
My studies of Architecture in Greece and the Netherlands have made me overly sensitive to the urban environment, architectural elements, buildings and their relationship with the surroundings and the play between light and shadow are always fascinating subjects that I try to capture. I currently live and work in the Netherlands as an architect.
My fascination for the fields of photography and art has found an intersection through cyanotype.  I create cyanotypes on paper and textile, that tell a story of the places I have visited or lived in. Each cyanotype is a unique, handmade artwork that combines the analogue cyanotype technique with digital photography. With my artworks, I aim to experiment with the dynamic relationship between artistic and realistic photographic representation.
Read more
Artworks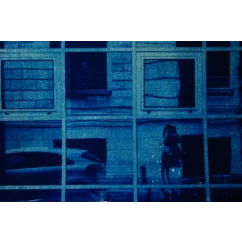 Prints, 29.8x19.8 cm (w/h)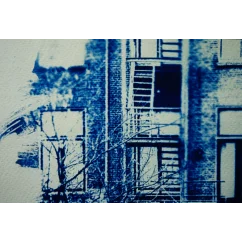 Prints, 29x20.9 cm (w/h)