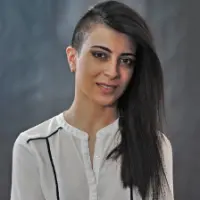 43
About the artist
Maka is a Georgian painter, 34 years old. 
PARTICIPATION & EVENTS: 
Group Exhibitions: Georgian National Museum, Tbilisi history museum, Zurab Tsereteli MoMa Tbilisi, Shalva Amiranashvili Museum of Georgian Art, National Museum of Georgia, Museum of literature, Batumi-Museum of art, Baku – State Museum."Wine Factory 1", "Vanda", TBC Gallery", Gallery "Vake,  Fabrica, Art villa "Garikula", Tbilisi State University, 
Solo Exhibitions: Literary Museum, Gallery of "International Art Centre", Fabrica and College of Arts.   
Most of my works are kept in private collections in Georgia, Ukraine, Italy, Germany, Azerbaijan, USA.
Read more