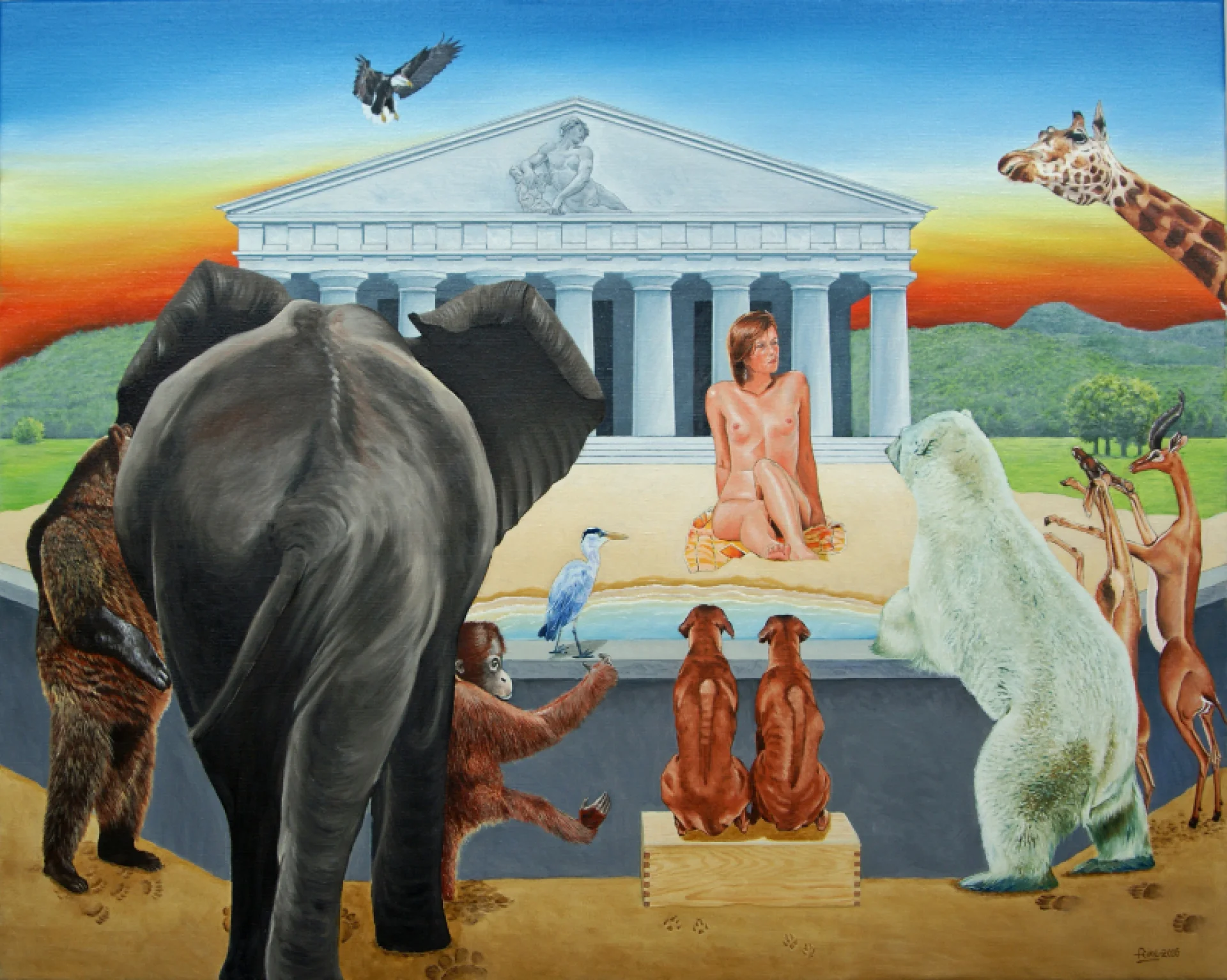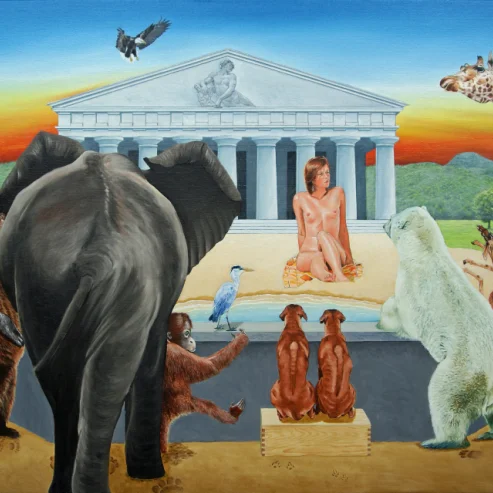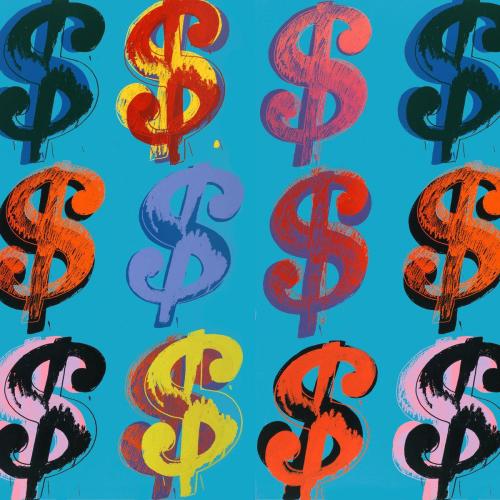 Sell your art online!


- Cheaper, faster and better than your own website!
- Create your own artist page
- Cancel per month

- Direct contact with Artbuyers

- NO commission over sold work!

Top 10: Symbolist paintings
17 January - 2021
by Femke van Leeuwen
202
The top 10 symbolist paintings by Online Gallery's artists!
1. Message in a bottle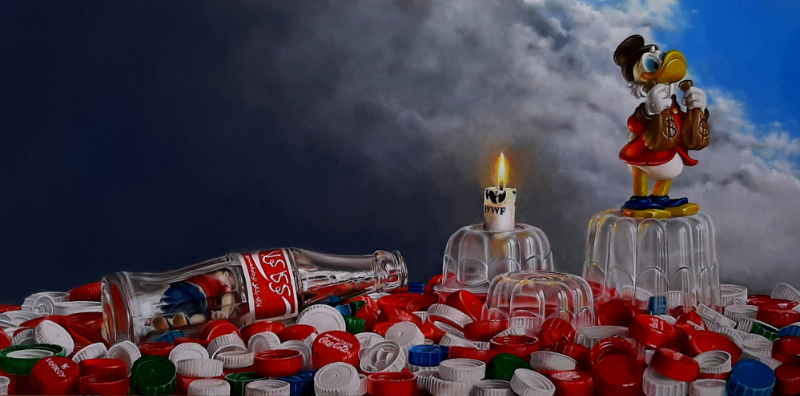 "This painting makes you think about the intertwined interests in this world", says painter Cor Laurens about his work 'Message in a bottle'. Scrooge McDuck stands elevated on an empty plastic pudding tray surrounded by a special message in a bottle, caps and a burning candle from WWF. The richest duck in the world has managed to fill his pockets with gold again, but at what cost?
2. I get the sky for you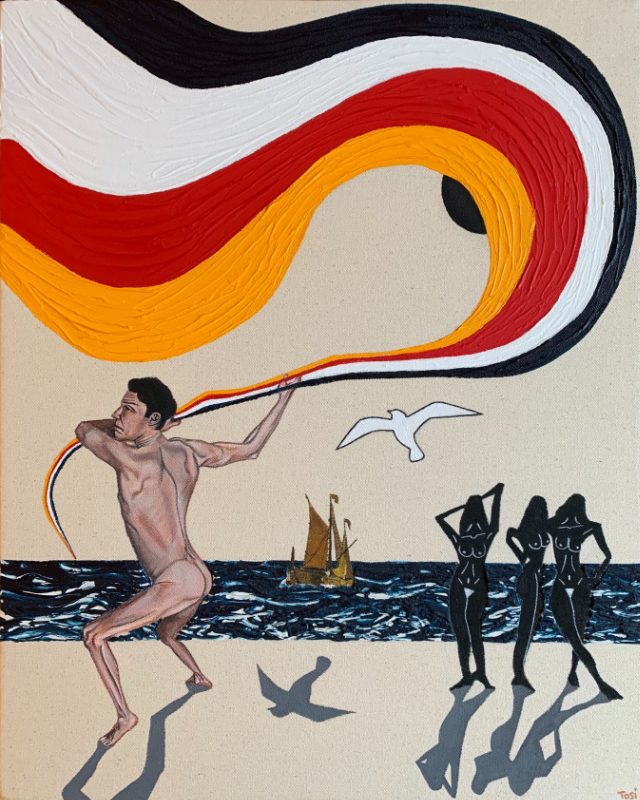 Giving anything for someone, that's what Giuliano Amedeo Tosirepresents with his work 'I get the sky for you'. The sky is symbolized with a seagull, the sea with an antique sailing ship and the beach with the shadows of figures. "The main content of my work concerns distorted, curved, melting or disappearing representations of figures in unreal spaces or natural landscapes. For me, painting is a playground of unlimited imagination", says Tosi.
3. Cambodia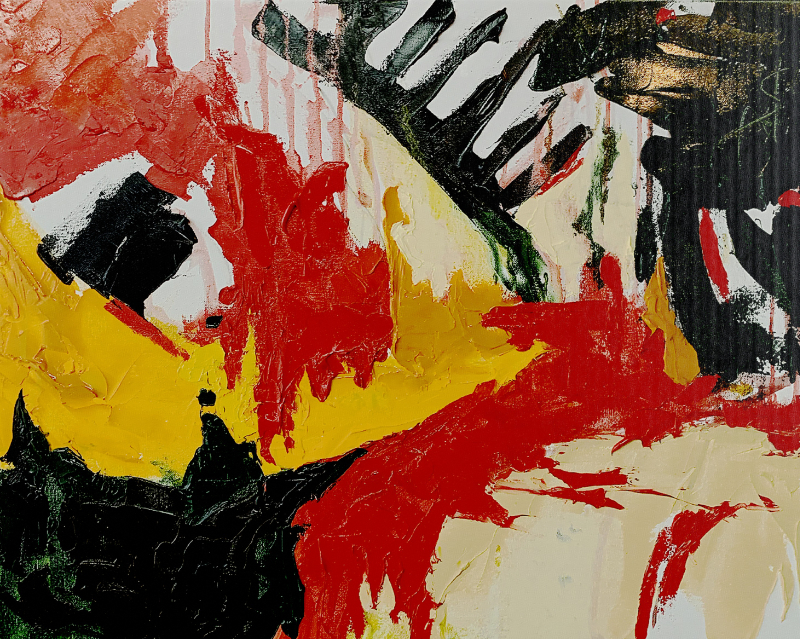 In Anna Shamrai's 'Cambodia', the colors and brushstrokes symbolize the Cambodian landscape. Shamrai: "I was traveling Cambodia solo this year, it was an amazing, absolutely overwhelming experience. This painting is an expression of my perception of this deep and breathtaking country. Red land, golden light, jungles, dust. If you ever visited Cambodia, I'm sure, you'll get it. If not, it might be a sign for you to go."
4. Nino
Ronald Krivosheiw painted the above work after his beloved dog Nino died. Krivosheiw: "I was imagining him going through the black hole to the spirit in the sky and meeting other creatures that all harmonized with each other."
5. The seat of perplexion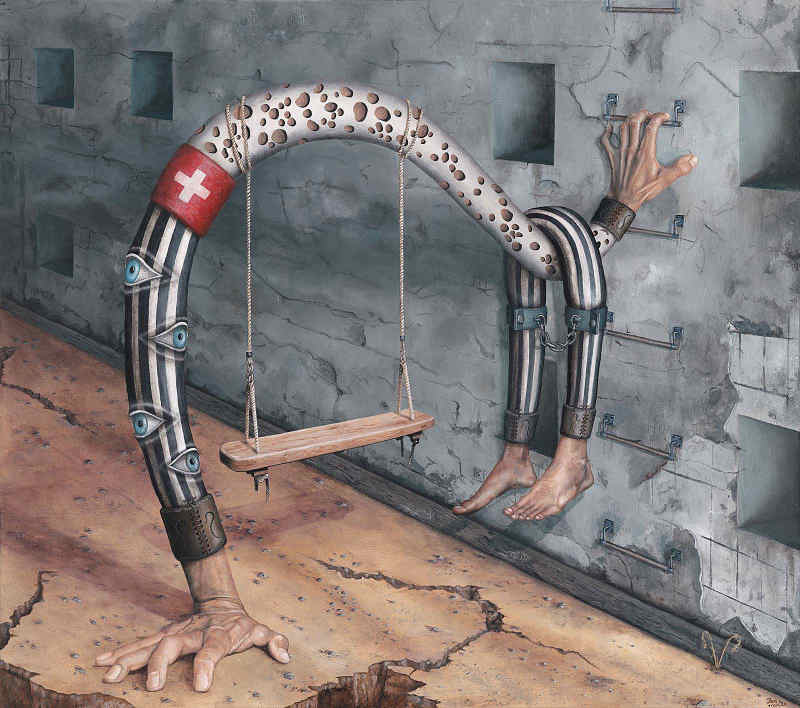 The works of the self-taught painter Jem Ham give voice to the subconscious mind and the imaginative world within. About his work 'The seat of perplexion', Ham says: "This work envisions the landscape of obsessive mental loops, the crippling feeling of being trapped in the prison of one's own mind. Many trips round the mental merry-go-round can inevitably ensue a state of perplexion causing a questioning of reality. In this process, vitality of life also seems to slowly diminish, and we can become the creatures of our own thinking, imprisoned and in need of a mental first aid kit for our own emancipation."
6. Gray cracked wall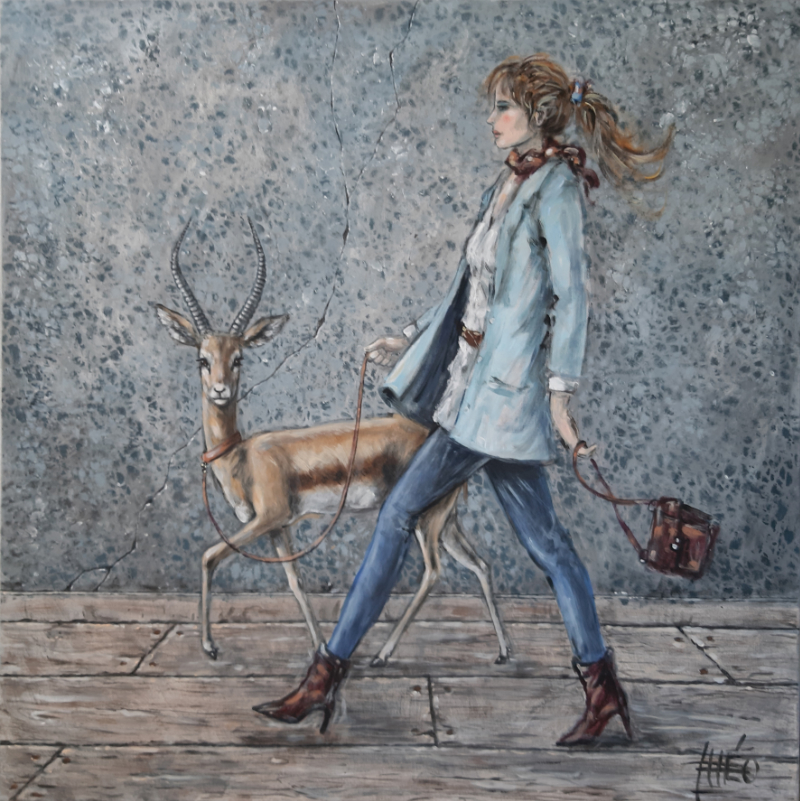 Taking a little walk around the block with the ... gazelle? In his series 'Alliance', Theo Schildkamp paints women walking very different animals than dogs, such as a gazelle, ostrich or a duck. Schildkamp talks about this extraordinary choice: Humans and animals are closely linked, inseparable even. We are part of nature. We are nature! But we also restrict her. That is why I often portray the animals on a leash. The line symbolizes the contrast (or the balance) between freedom and bondage.
7. Lost in autumn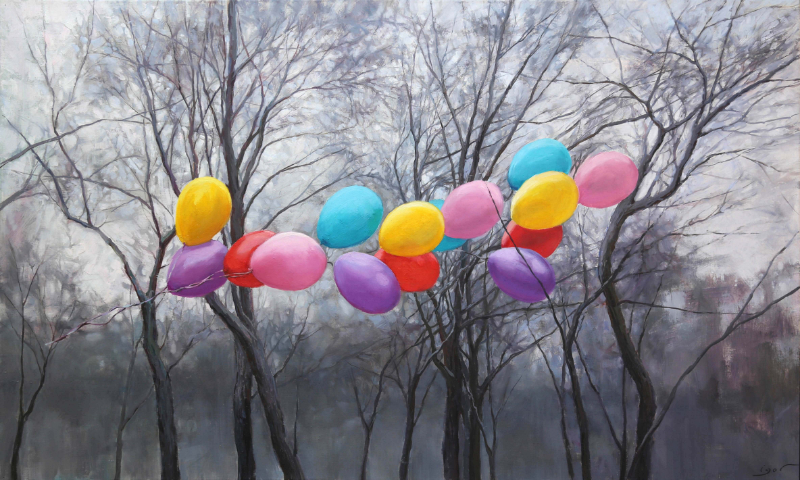 'Lost in autumn' is an autumn scene created by painter Igor Viksh Denisov. Completely bare gray trees as a background and a bunch of bright balloons of different colors flying past them. "In this scene I try to follow the contrast between the natural shapes which are almost devoid of color according to the season, and the objects related to the human culture which look indifferently bright and vivid under every circumstances", says Denisov.
8. Open heaven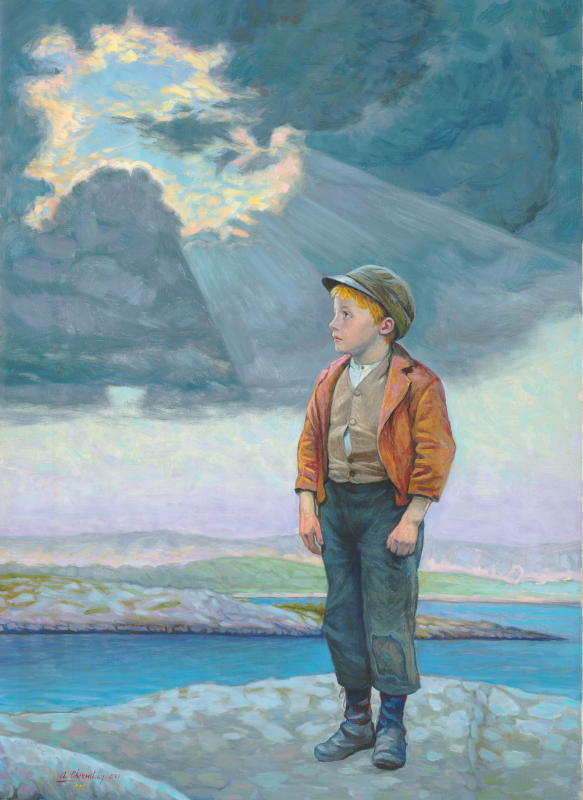 Alexander Chernitsky painted 'Open Heaven' in 2007 in Sweden. Chernitsky: "A boy dressed in poor clothes of the early 20th century is a reflection of the state of my soul of that period. Purity and contemplation, stones and the sea, simple and free life, devoid of fuss. The thoughtful and cast into the distance gaze of the child asks what is life in essence. The heaven, like a living creature, opens a ray of hope and encourages him - go ahead, I am with you, and while your soul remains childish, I am with you and nothing wrong will happen to you."
9. Tourism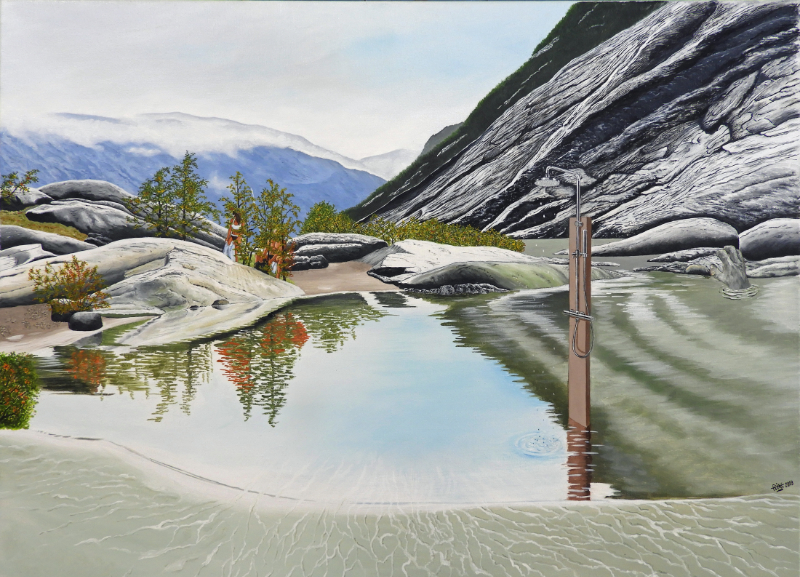 The oil painting 'Tourism' by artist Feike de Vries immediately stands out because of the beautiful landscape that is depicted. When we take a closer look, we spot a man and a woman on the other side of the lake behind the trees; they are undressing or just getting dressed again. In the middle of the lake is a wooden post with a shower attached. "What do we use this earth for?" is what De Vries wonders about this depiction.
10. City in the sky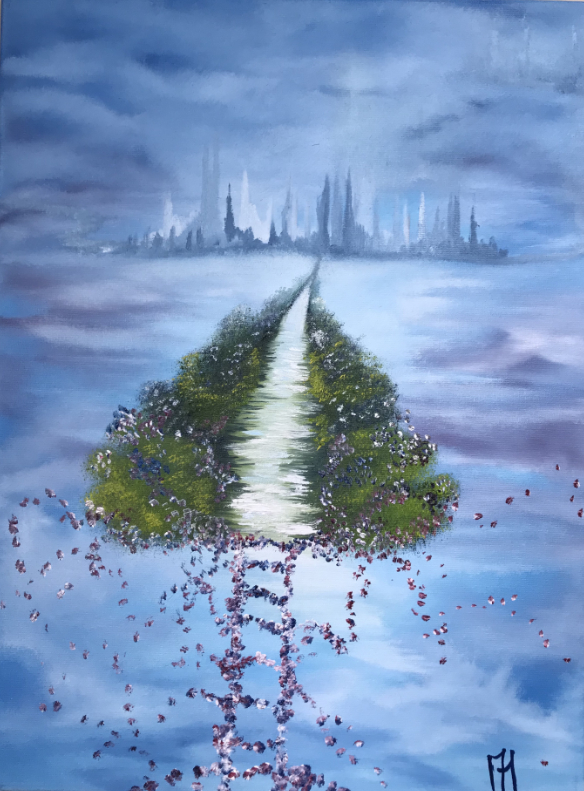 The work Merel Hazewindus makes is mainly realistic to hyper-realistic, and some works contain a nod to surrealism. The love for nature and landscapes are the subject of her work. 'City in the sky' is a combination of surrealism, nature and cityscape. It is a dreamlike world that makes you wonder what's at the end of the path.
Visit the artists' pages for information about the artworks.
Image header: Feike de Vries – 'Eve or the reversed zoo'
Go back