Top 10: Still Lifes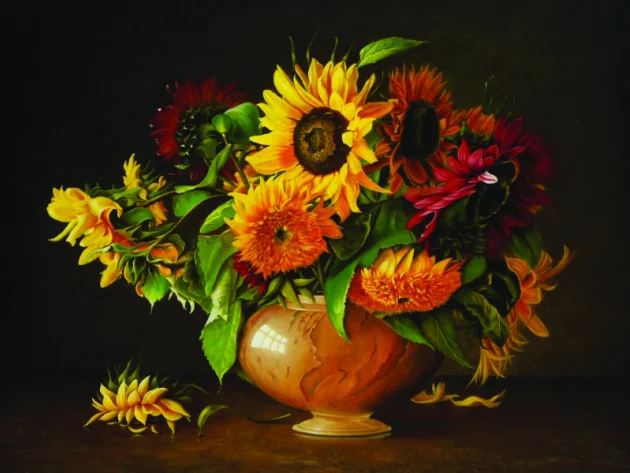 19 December - 2020
by Femke van Leeuwen
794
The top 10 still lifes from Online Gallery's artists, both painted and photographed.
1. Still life with apples and white can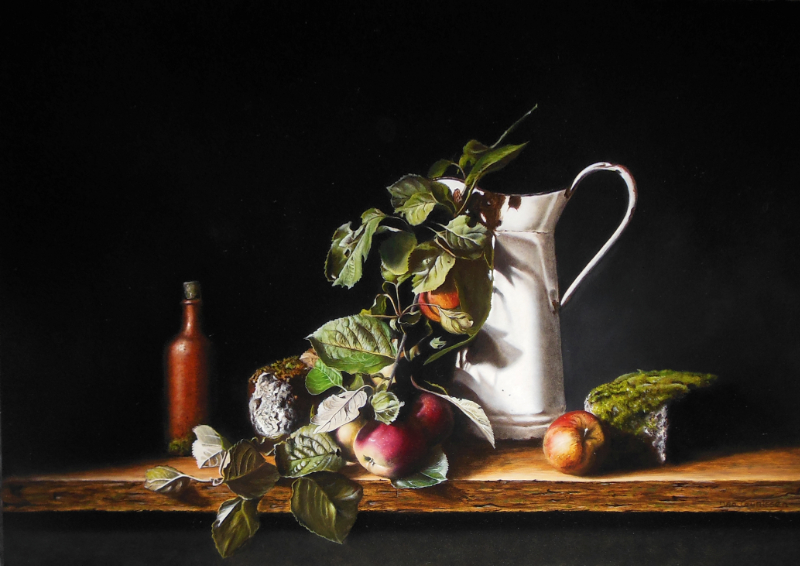 Jan Teunissen – 'Still life with apples and white can'
The dark background of this oil painting by Jan Teunissen provides a stage for the carefully lit white can with apples. Teunissen: "In my paintings I strive for a representation that is as realistic as possible, mainly still lifes in an atmosphere of claire obscure and no larger than lifelike. I mainly focus on details, light and reflections."
2. Reborn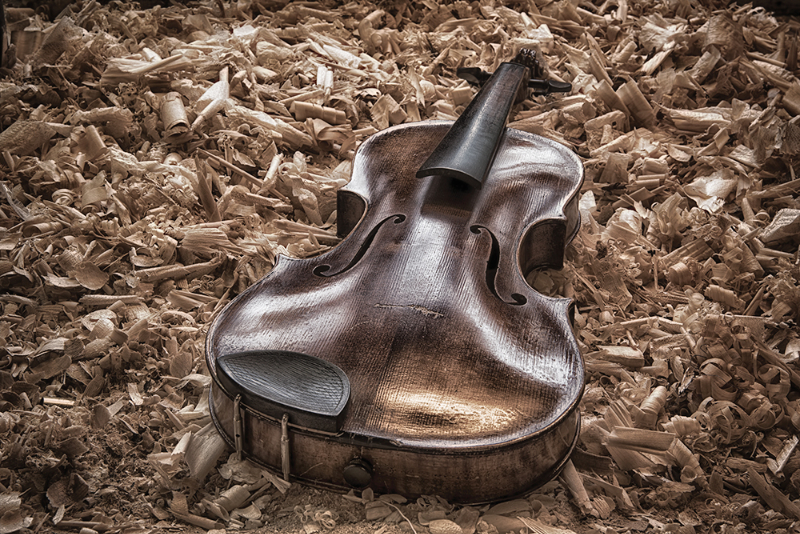 The self-taught Oscar de Wit often photographs historical libraries, monumental buildings and crafts and then processes them in his own style ('HDR-Old Style'). De Wit photographed the violin in his work 'Reborn' during a photo shoot at Hans de Louter, who professionally manufactures stringed instruments.
3. Tulips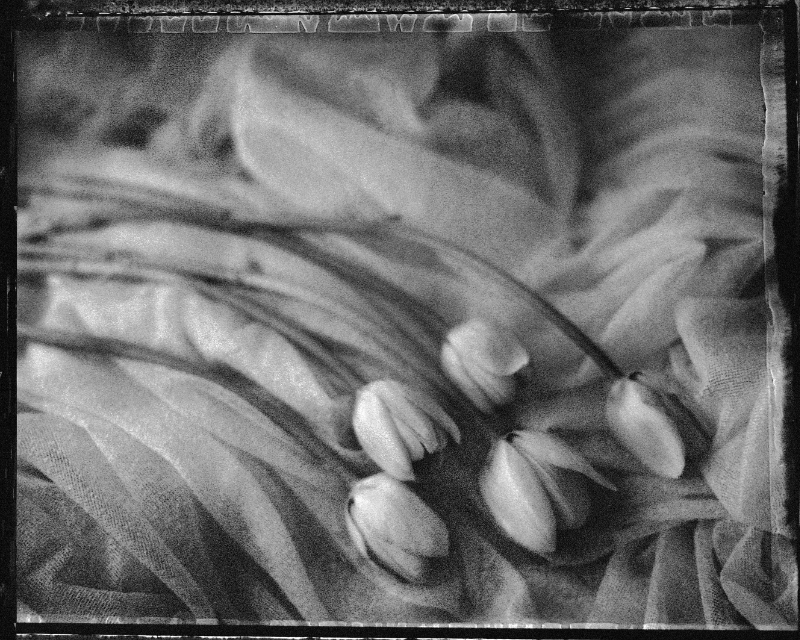 Robert Vano's 'Tulips' were photographed using the platinum type process, a monochrome printing process using platinum. Vano is one of the few who can still apply this old and now rare technique.
4. Jellyfish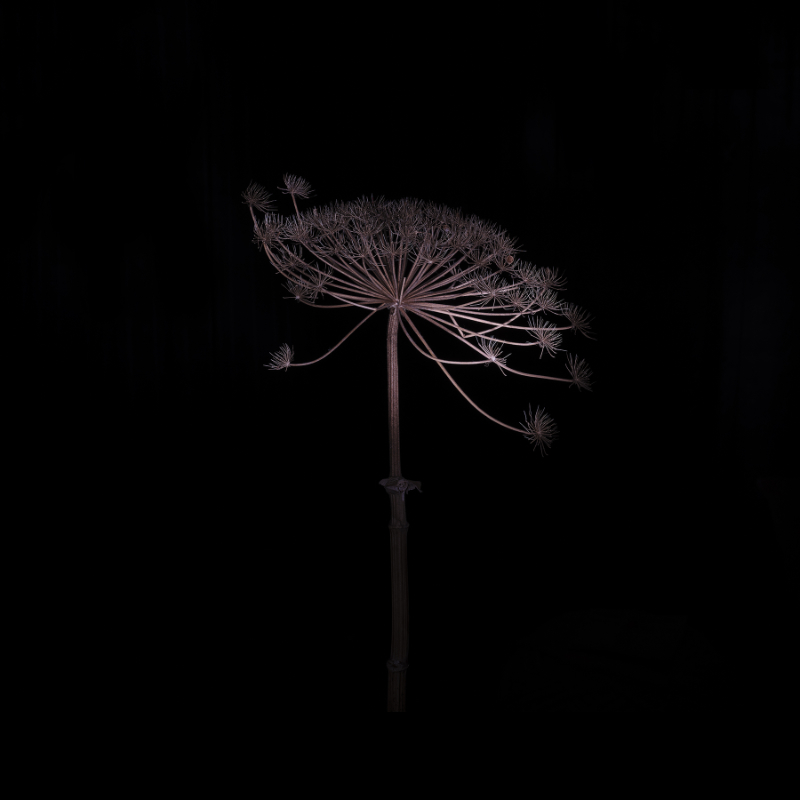 "Working nighttime, predominantly in nature, made me aware of the incredible sense of silence and mysticism. The uncovering of the subjects through focusing on the essence by isolating it from its ambient noise, enables me to communicate shapes in a different way. The pictures must have their own reality, they must not be an imitation of the visually perceptible world around us", says photographer Sebastiaan Helbers.
5. DE-DUR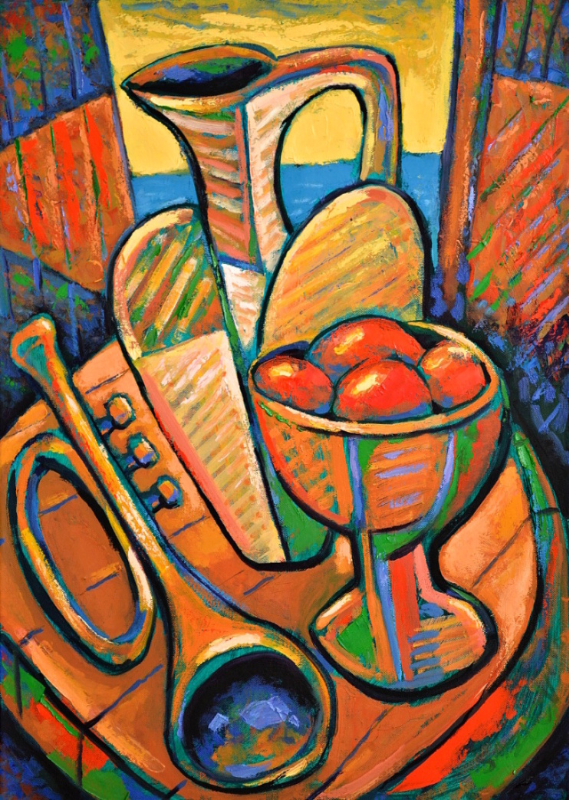 A modern take on a still life by Rumen Sazdov with his work 'DE-DUR'. Sazdov's oil paintings are in the style of Cubism and Abstract Expressionism. His choice of colors ranges from the spectrum from azure and blue to green and the warm and all-encompassing shades of red, perfect to indicate passion. Everything is enclosed in precise geometries and nothing is left to chance.
6. Flower art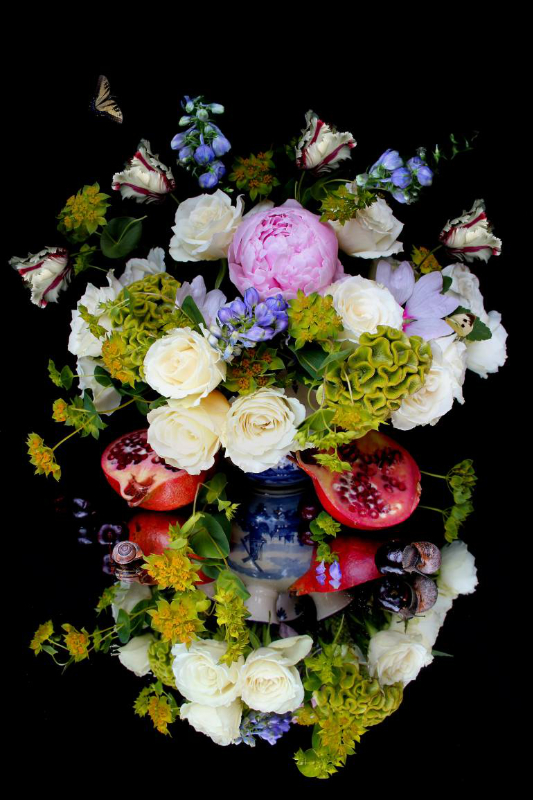 There is more than enough to see in the photo 'Flower art' by NortiArt. In addition to the beautifully composed flowers in the Delft blue porcelain vase, you will find pomegranates, snails and butterflies. By mixing light and colorfulness with a contemporary concept, the work refers to the baroque Dutch masters in a new guise.
7. Cyanotype #2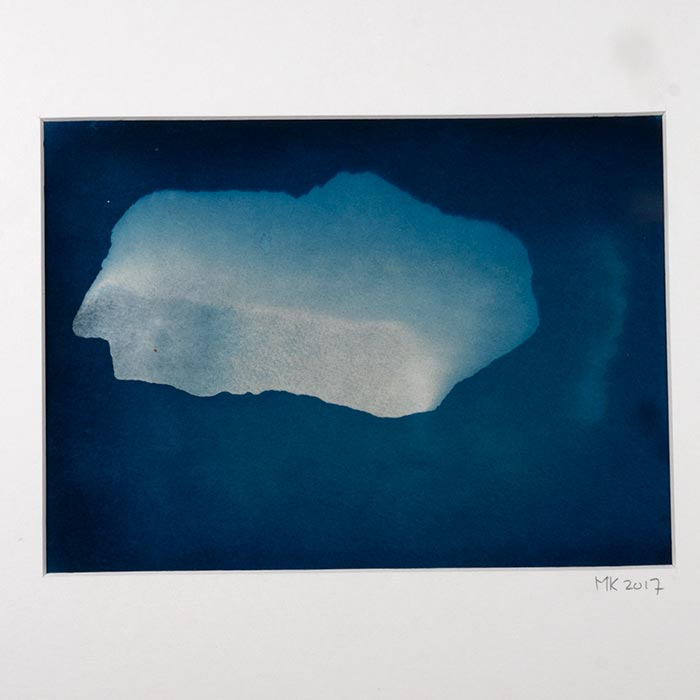 "In the summer when I work in my open-air studio in the South of France, I draw, photograph and work on cyanotypes. This is an old photo technique from the 19th century. Prepared watercolor paper is exposed to sunlight and turns blue. In this series I transform 3D objects, stones, to 2D. The sun casts a shadow of the stones on paper, showing the height of the stone. But more important are the unexpected shapes that emerge from the beautifully blue, abstract shapes ", says Michiel Knaven. What do you see in the work 'Cyanotype #2'?
8. Ginger jar with hydrangea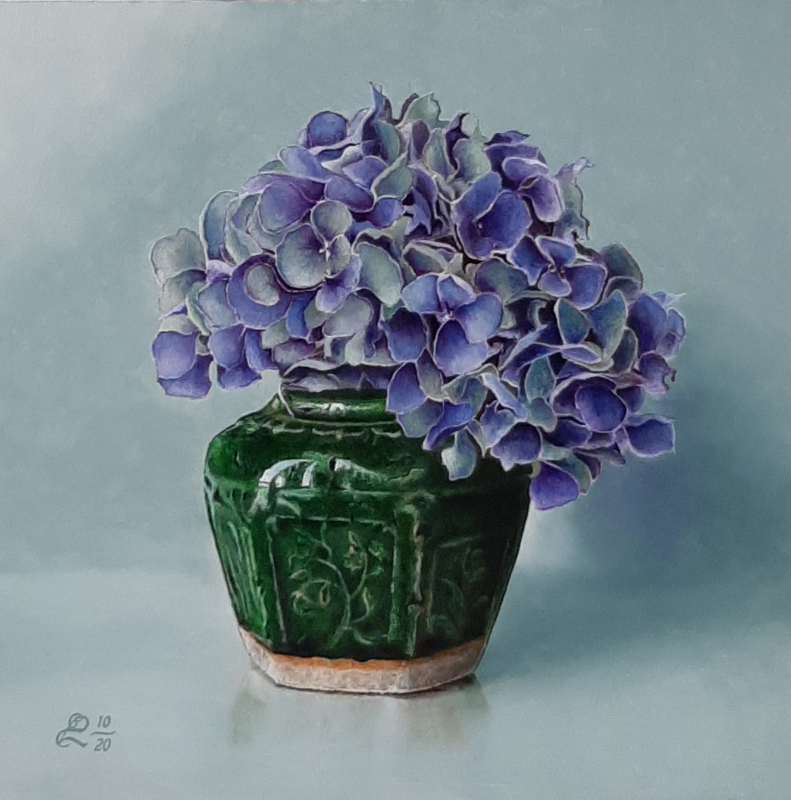 Cor Laurens created the oil painting 'Ginger jar with hydrangea'. The artist often paints vegetables, fruit and flowers in a realistic style, according to the techniques of the old masters. Laurens creates 2 to 3 bottom layers, after which he applies several layers of transparent paint, which provides the rich colors on his canvases.
9. Still life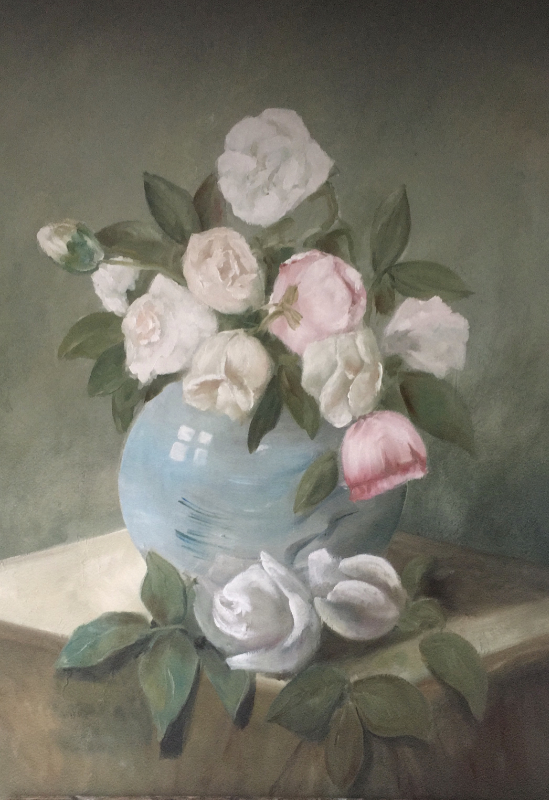 Ans de Koning likes to work with various materials to paint flowers, animals, people, landscapes and still lifes. The light brown, pink and blue tones and a small contrast give the above still life its soft look.
10. Lemons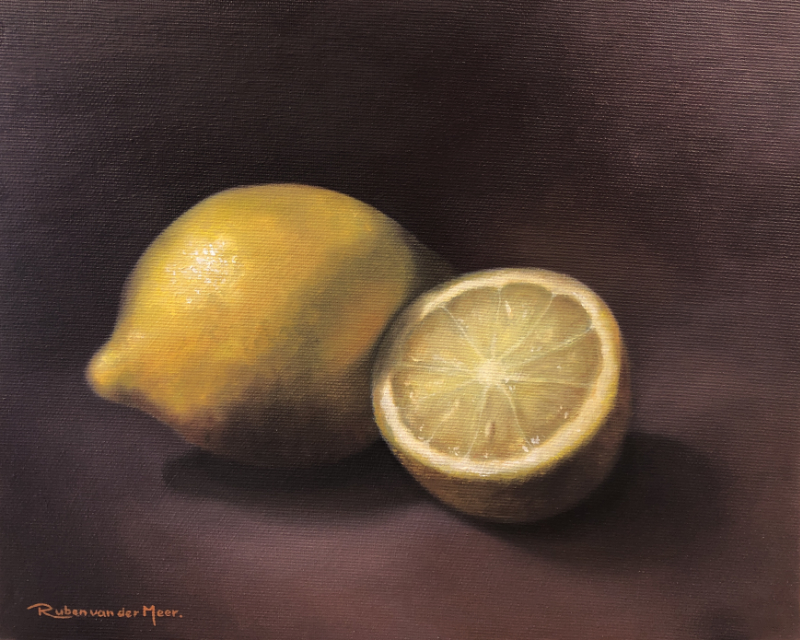 To conclude, a positive note with a wink from the painter Ruben van der Meer about his work 'Lemons': "When life gives you lemons, paint them". Van der Meer graduated from Art & Design in Amsterdam. He paints in a realistic style with the human body and still lifes as recurring subjects.
For more information about the still lifes, see the artists' pages.
Header image: Jan Teunissen - "Still life with multicolored sunflowers