Beeple's digital art breaks records: 69,3 million dollar!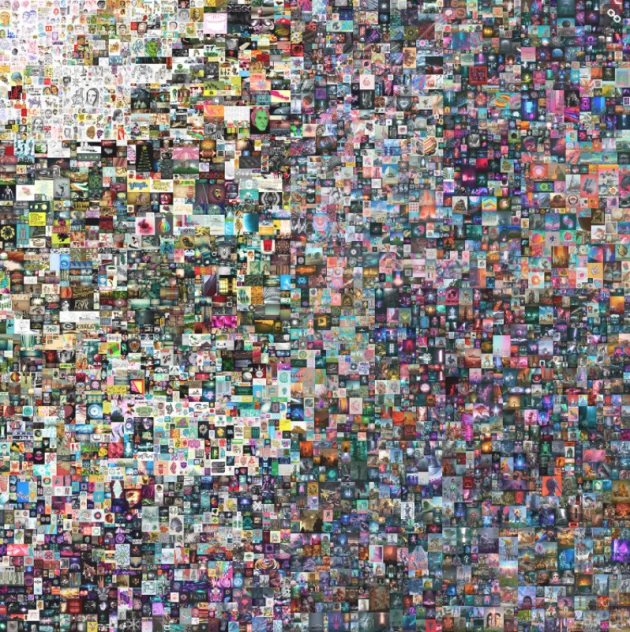 14 March - 2021
by Alice Broeksma
356
Digital artwork by the American graphic designer Mike Winkelmann, known as Beeple, has recently been sold by auction house Christie's for the record amount of 69,3 million dollar.
The artwork, titled Everydays, is a collage consisting of the first 5000 photos the artist has placed online since 2007 without missing a single day. As a collage, at first sight the images resemble a traditional patchwork. On closer inspection many individual images are surrealistic. Christie's has confirmed the buyer is the anonymous digital asset investor and collector of new technologies operating under the pseudonym 'Metakovan'.
It is the first time a purely digital artwork has generated this much money, placing Mike Winkelmann 'among the top three most valuable living artists', according to Christie's. Winkelmann (1981) studied computer science, worked as a web designer after graduating and developed creative projects, 'Beeple stuff'. On his own website the American designer describes his work with: 'He makes a variety of art crap across a variety of media. Some of it is ok, but a lot of it kind of blows ass. He's working on making it suck less everyday though so bear with him..' Amongst Winkelmann's clients are brands such as Apple, Coca Cola and Nike. He has worked on concert visuals for Justin Bieber, One Direction, Katy Perry, Nicki Minaj, Eminem, Zedd, deadmau5 and many others.
NFT - proving ownership of digital art
Christie's told AFP, the French news bureau, 22 million people watched the final moments of the auction's live stream. This huge interest has been explained by the fact it was the first purely digital NFT artwork ever offered by Christie's. NFT's are 'non-fungible tokens' with which digital art can be 'tokenised'. This principle has been compared to buying an autographed print. The unique digital token proves ownership of the original work. The digital certificate of ownership can be bought and sold. In theory, anybody can tokenise their artwork with NFT, but recent multimillion dollar sales have fuelled a hype.
Image header: Beeple (b. 1981), EVERYDAYS: THE FIRST 5000 DAYS, 2021. Non-fungible token (jpg). 21,069 x 21,069 pixels (319,168,313 bytes). Minted on 16 February 2021. Sold for $69,346,250 in a single lot sale concurrently with First Open.