Sasha Kruglikova, ceramic artist in Moscow – 'Symbolism, realism, floristry'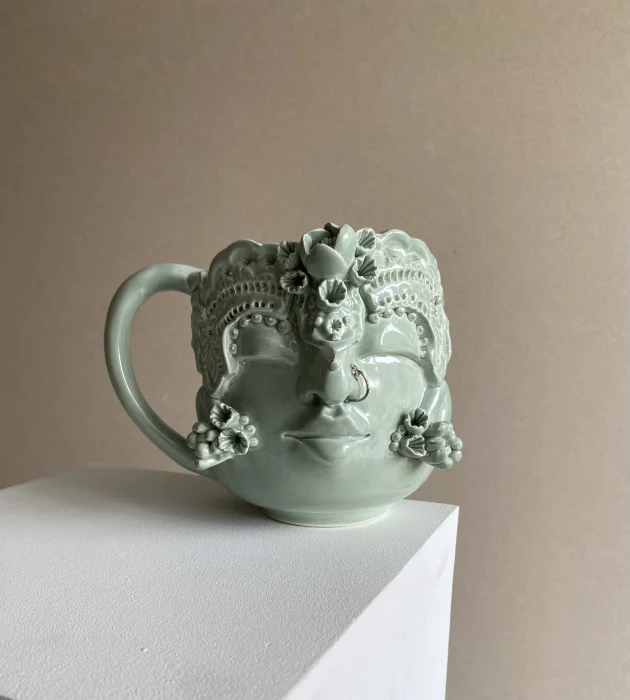 13 January - 2022
by Alice Broeksma
547
Background
Moscow born Sasha Kruglikova, ceramic artist, had the urge to draw at a young age although there were no artists in the family. Painting followed when she was 18, her last year in high school. She went on to the Moscow State Art School, to study at the department of easel painting. After graduating the young Russian artist looked for work but discovered her speciality was not in demand. She found a job as an artist in sand animation, giving master classes for adults and children and taking part in a show, drawing on sand. 'It was an exciting experience which made me grow up as an artist, finding a new direction'. Before setting up as a ceramic artist, Sasha worked as a pastry chef and tried to start her own confectionery business. She collected figurines from cake mastic and made flowers from cream. 'Thanks to this work, I fell in love with sculpting using my hands. By chance, I was invited to work in a pottery workshop, and changed jobs.' After several years she opened her own business in Moscow, as a ceramic artist with a workshop at home. 'It is possible to develop as a ceramic artist in Moscow. There are many opportunities here, the main thing is to work hard.' Sasha Kruglikova now has a large following on Instagram.
Style
Sasha Kruglikova calls her style 'symbolism with elements of realism, floristry with elements of a fairy tale'. A style liked by many. 'The covid lockdown affected my work in the best possible way. My Instagram account grew rapidly, people started to pay more attention to their home and began to buy more things that will surround them every day and delight them.'
Method
'All images and shapes of ceramic figures are born from my imagination. I just feel them and mould them. Making pottery for me is pure improvisation.
Ceramic animals and images of people are immersed in their own inner world and each time they are "born" with different emotions. Every time the facial expressions are different, it is always an improvisation. I do not have a clear plan.'
Philosophy
'I have a home workshop. I work alone. My working day is 12-16 hours. I really love my job. It's not a job – it is a way of life. My message to the world is: we must live, not survive. Art for me is freedom, love of life, self-knowledge. I am inspired by my life and everything that surrounds me.'
Work