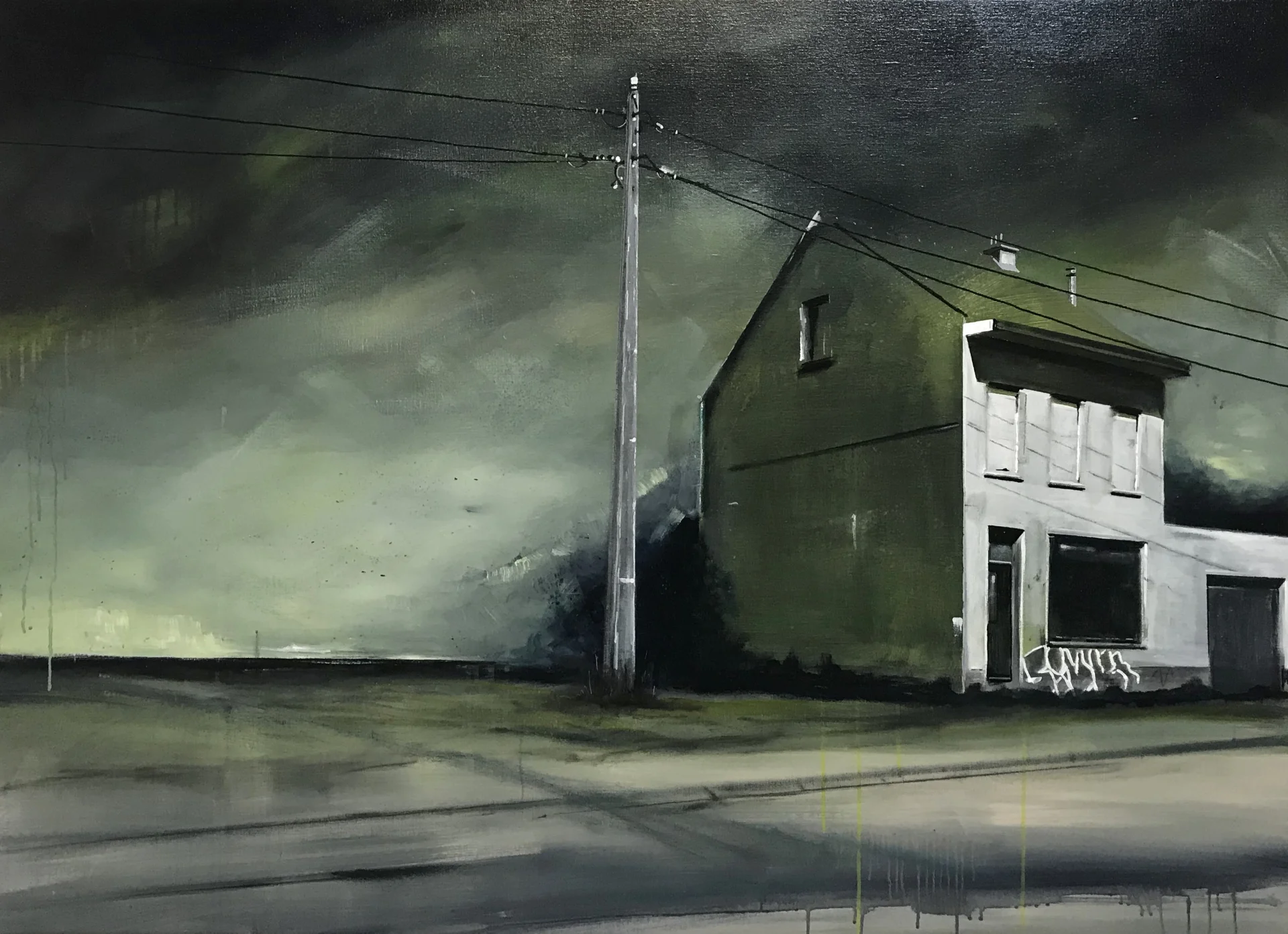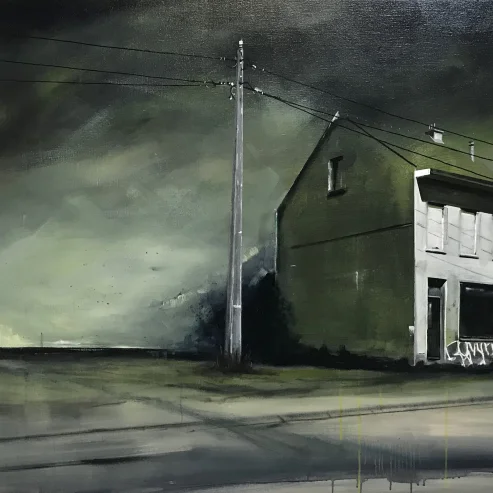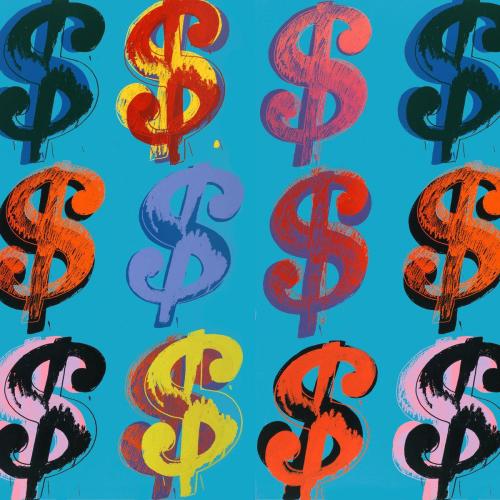 Sell your art online!


- Cheaper, faster and better than your own website!
- Create your own artist page
- Cancel per month

- Direct contact with Artbuyers

- NO commission over sold work!

Interview Joost Verhagen: Desolate landscapes, not without hope
6 April - 2021
by Alice Broeksma
981
Joost Verhagen, Online Gallery's Artist of the Month [April 2021], was continually drawing from a very young age. This was no surprise with art teachers and designers in the family who encouraged him. His grandparents lived in the Dutch city of Rotterdam. The large harbour impressed the young boy – the skyline, ships, refineries and terminals. On A3-sheets of paper, with pencil, he drew cityscapes and skylines of large, fictitious metropoles. Art school in Rotterdam was the obvious next step, but this did not last and a career in real estate followed. A yearning remained. After backpacking in Australia in earlier life Joost Verhagen decided to emigrate there and worked for several years as a labourer in the boiling heat. The rough landscapes stayed with him when he returned to The Netherlands. Once again, he picked up pencil and paper. Also brushes. Verhagen is now a full-time painter and his modern landscapes are sold worldwide.
- How did you develop the style you are using today?
My aim is to translate the modern landscape and this is an ongoing quest. Even as a child I was fascinated by rough urban landscapes and desolate, bleak places. I now search with my i-Phone camera for the very image that can be transformed from photo to canvas. I have learned to see through the everyday, but this also comes naturally. My starting point is realism. With simple tools, only brush, palette knife and usually acrylic paint on linen I try to transform the image into something fascinating, surreal or alienating. For me, the representation comes first. The Golden Ratio is a good thing, but should not be the only way to achieve the end result. I will get to the edge of exaggeration, between realism and the abstract. In terms of colour anything goes, from light to dark. Or I might decide on a bright yellow sky, to exaggerate what I saw with my i-Phone camera. I like working on linen larger than 1 x 1 metre, pinned to the wall. Only after I stretch the linen on a frame. This gives freedom to review my dimensions.
- Which other artists or art movements have inspired you?
Not so much the classics, but modern landscapes painters such as Carla Klein, Jan Ros, Koen van de Broek and Erin McSavaney. They are experts in alienating an everyday image to create great work. This genre is more than just an easy way out. My own work has been called Modern Edward Hopper, a huge compliment. It is a challenge to find your own identity in this subject matter.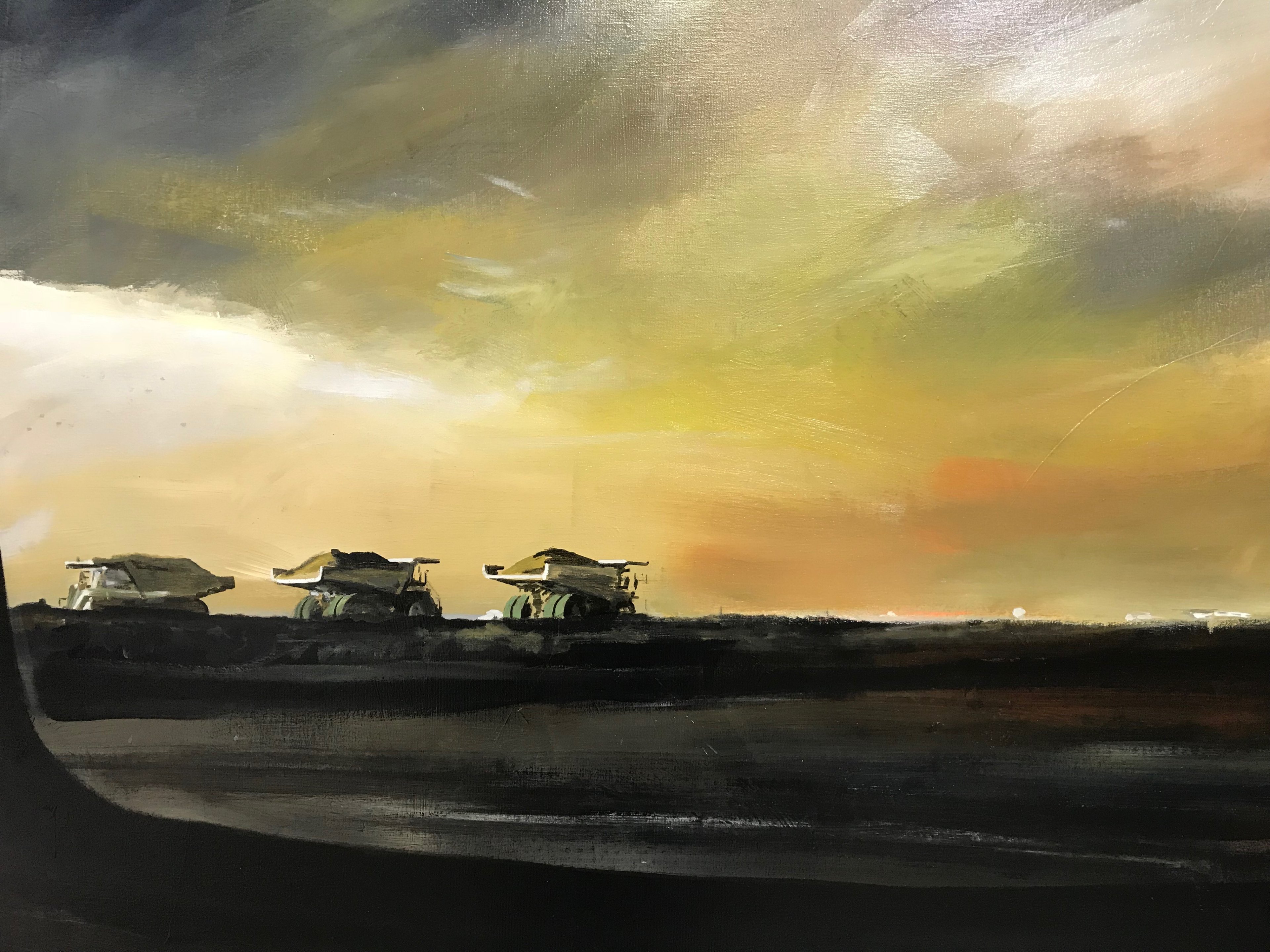 Road to Nowhere, Painting, 145x100x2 cm (w/h/d), €3.450,-
- Australia is a main theme, and industrial Belgium. Gloomy landscapes, sinister titles such as 'Road to nowhere'.
To me, images and shapes must be genuine, not artificial. I often find this in desolate locations. They may seem hopeless, but something will happen here. I worked as a labourer in the Outback in West-Australia for two years, in an unforgiving landscape. It was hard in the dust and extreme temperatures. At first sight the area was completely isolated from the outside world, but the work was part of two enormous infrastructural projects for the mining industry. One task was the construction of 400 kilometres of railway tracks, straight through the bush, running from the inland mines to the harbours of Port Hedland. The Super Dumpers in my painting 'Road to Nowhere' seem to go nowhere, but they do have a destination.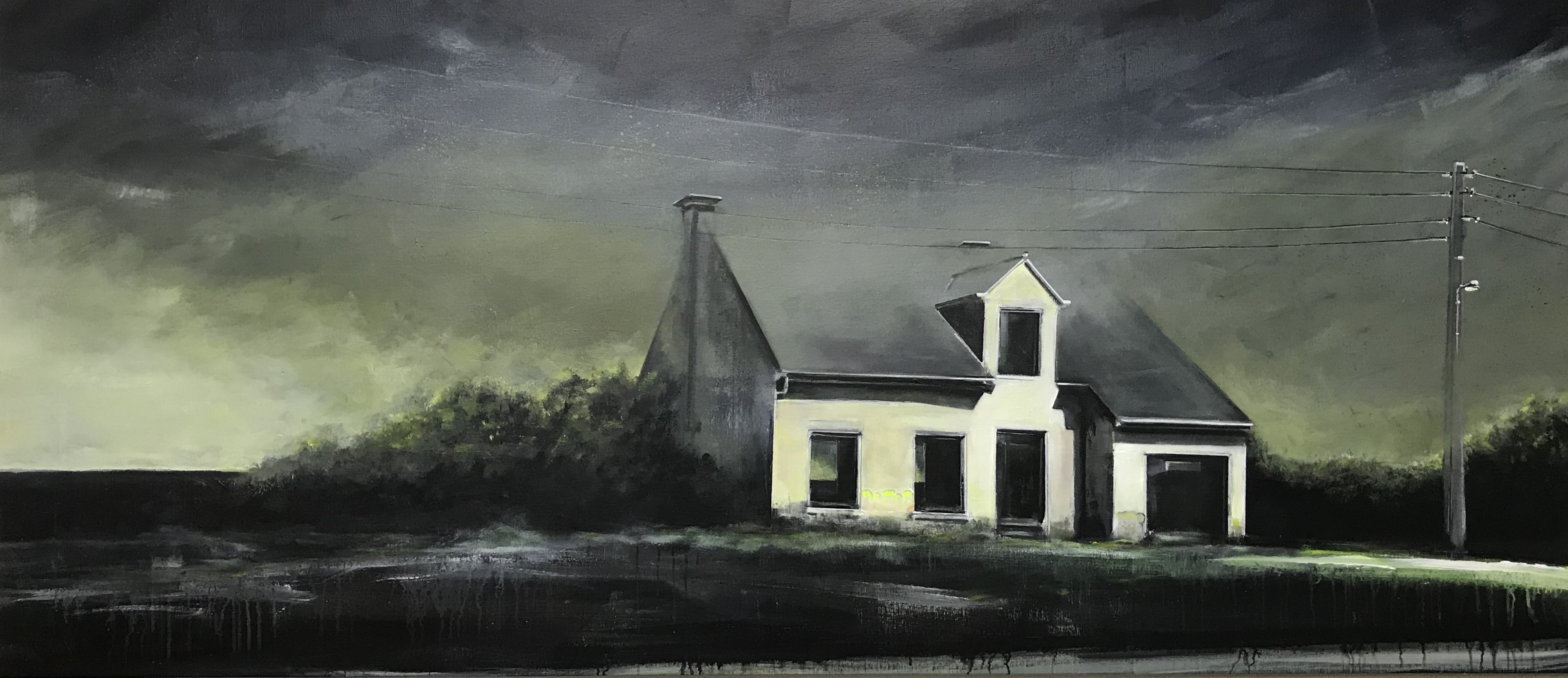 At Doel - In a State of Urban Solitude, Painting, 230x100x2.5 cm (w/h/d), €4.550,-€4.850,-
After I returned to Europe I studied classic painting at the art academy of Antwerp and graduated in 2019. The Belgian harbours and industrial areas were just around the corner and I often visited them. I still do. The object in my painting 'At Doel – In a State of Urban Solitude' seems to be solidified but in the near surroundings the harbour is expanding, and there is a nuclear reactor. My starting point at first sight could be seen as still, boring or even without inspiration. But it is not hopeless - things are happening. Dynamics and progress are possible.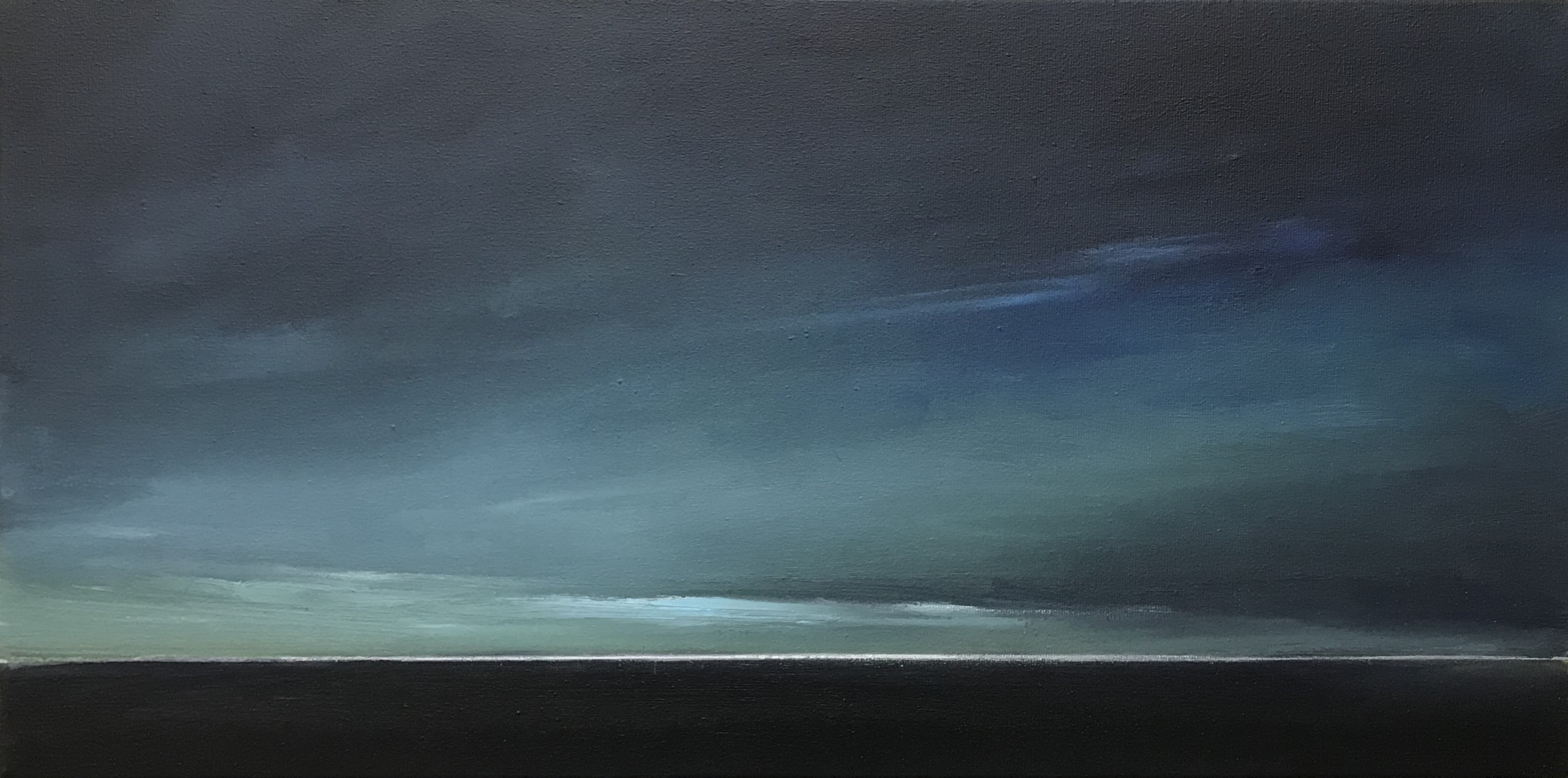 Blue sea view
- Your other themes are landscape studies, and portraits. Is there a connection with your modern landscapes?
I continuously paint small landscape studies; I have produced 900 of them over the past five years. Usually with a defined, central horizon and quickly painted skies. I mix the colours on the cotton canvas. This seems to stand apart from my overall work, but fits. As does the abstraction of my portraits. This too transforms realism into abstraction. My aim is to be freed from the definitive.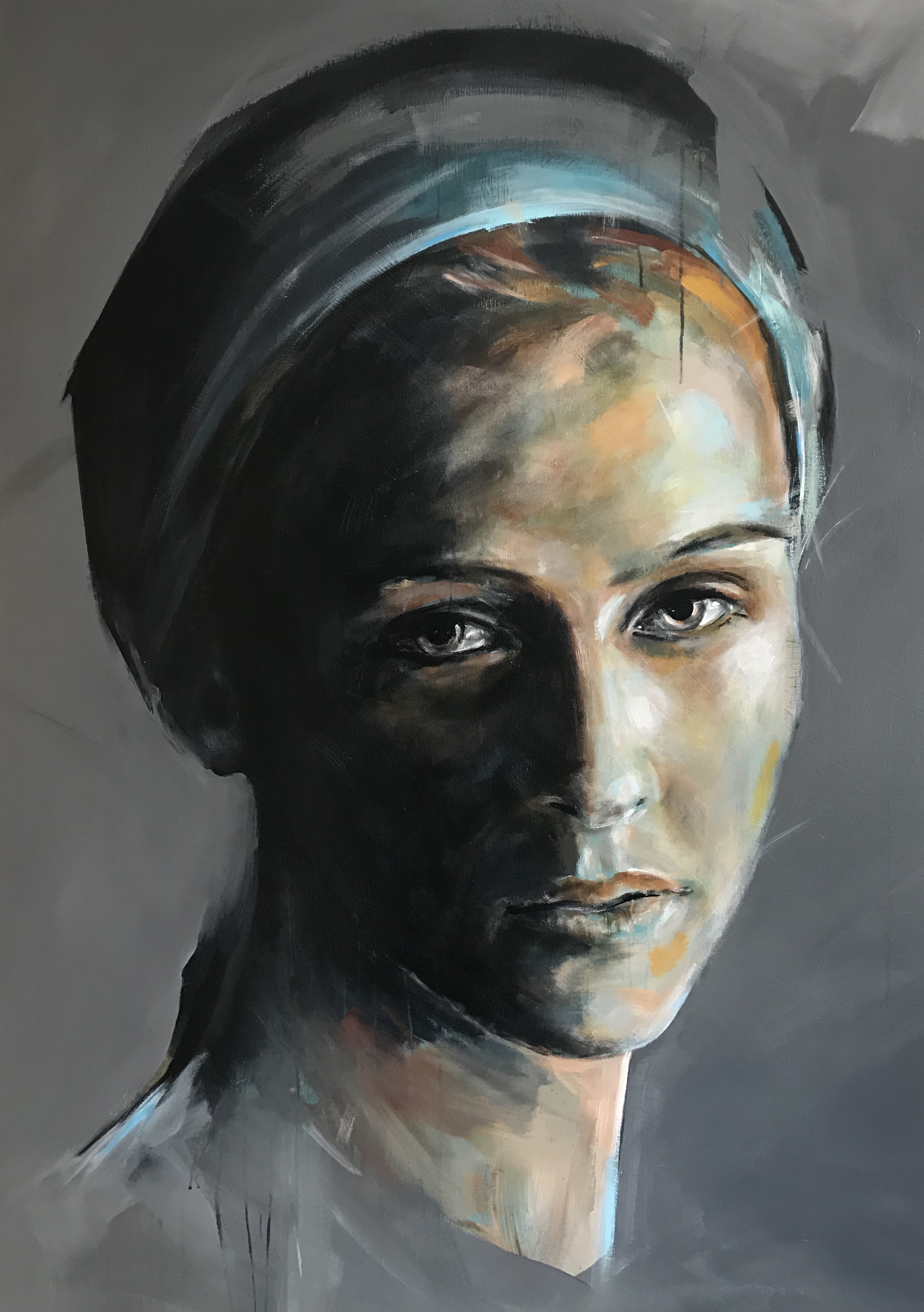 For more work please visit the artist page of Joost Verhagen.
Go back