Interview Angélique Nooijen: Skyscapes and the Dutch sea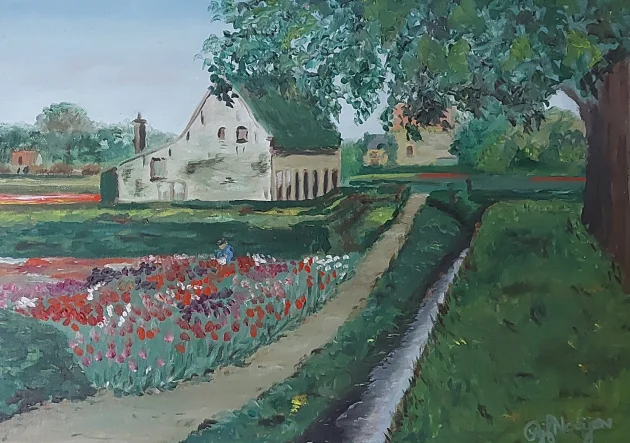 31 January - 2022
by Alice Broeksma
681
The Dutch love their North Sea coast, with the spectacular sky and seascapes made famous by the old Dutch masters. For contemporary artists it is also an enduring inspiration. In her career as a forensic expert Angélique Nooijen has an eye for the smallest detail – but when painting she works on canvas measuring at least one metre square, or preferably larger still, to capture the essence of the coast. As an artist, she uses the name Angie.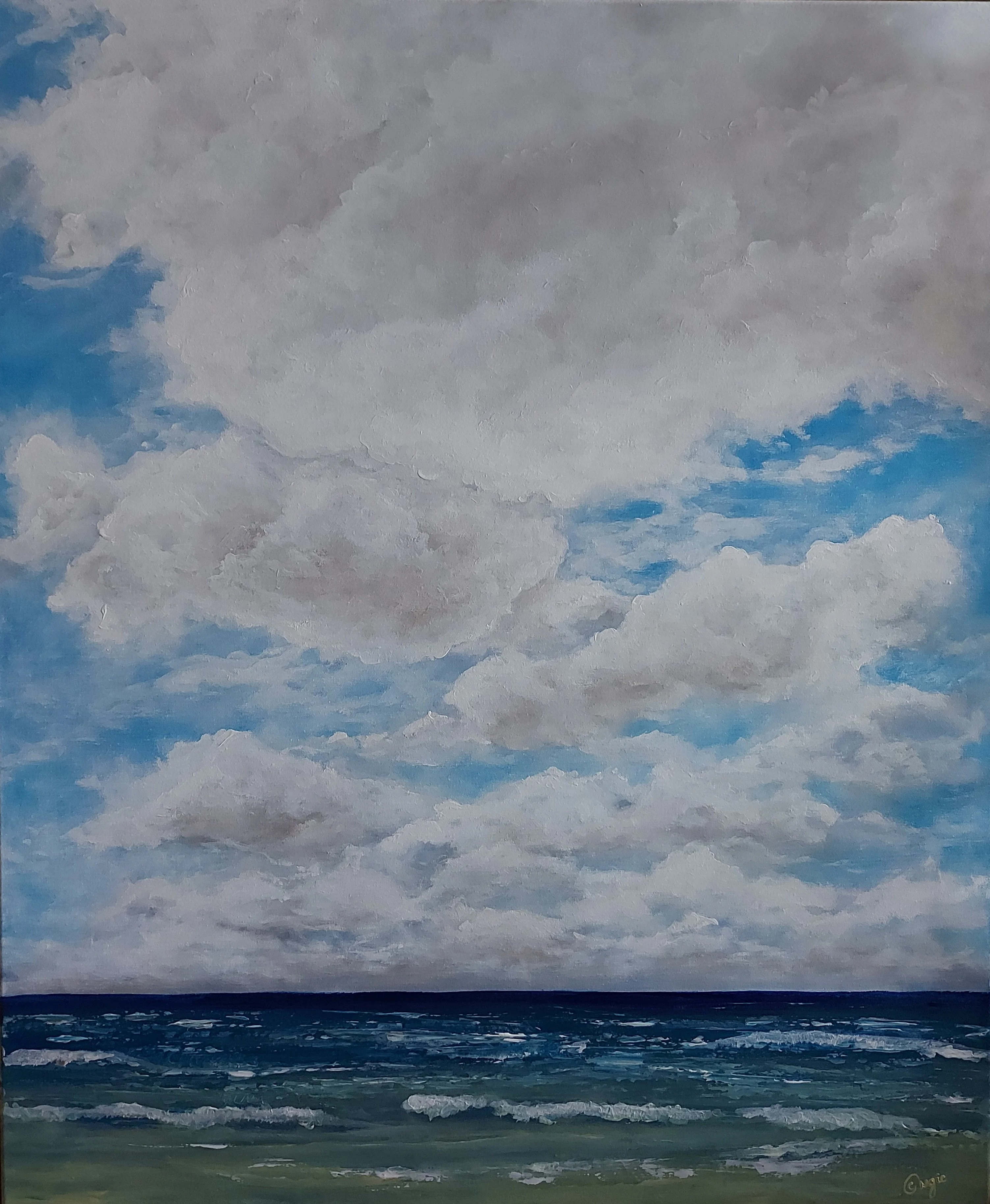 Years ago she ran a small business painting murals and ceilings, but personal circumstances changed and it was back to the day job. The urge to paint remained. For a long time she searched for her own style. She has now discovered the palette knife. 'This totally has liberated me,' she says about 'Blue Regatta', the canvas recently sold through Online Gallery. 'The painting is so full of energy. It is more daring than before. I love being able to create new work, and I have still many ideas left.'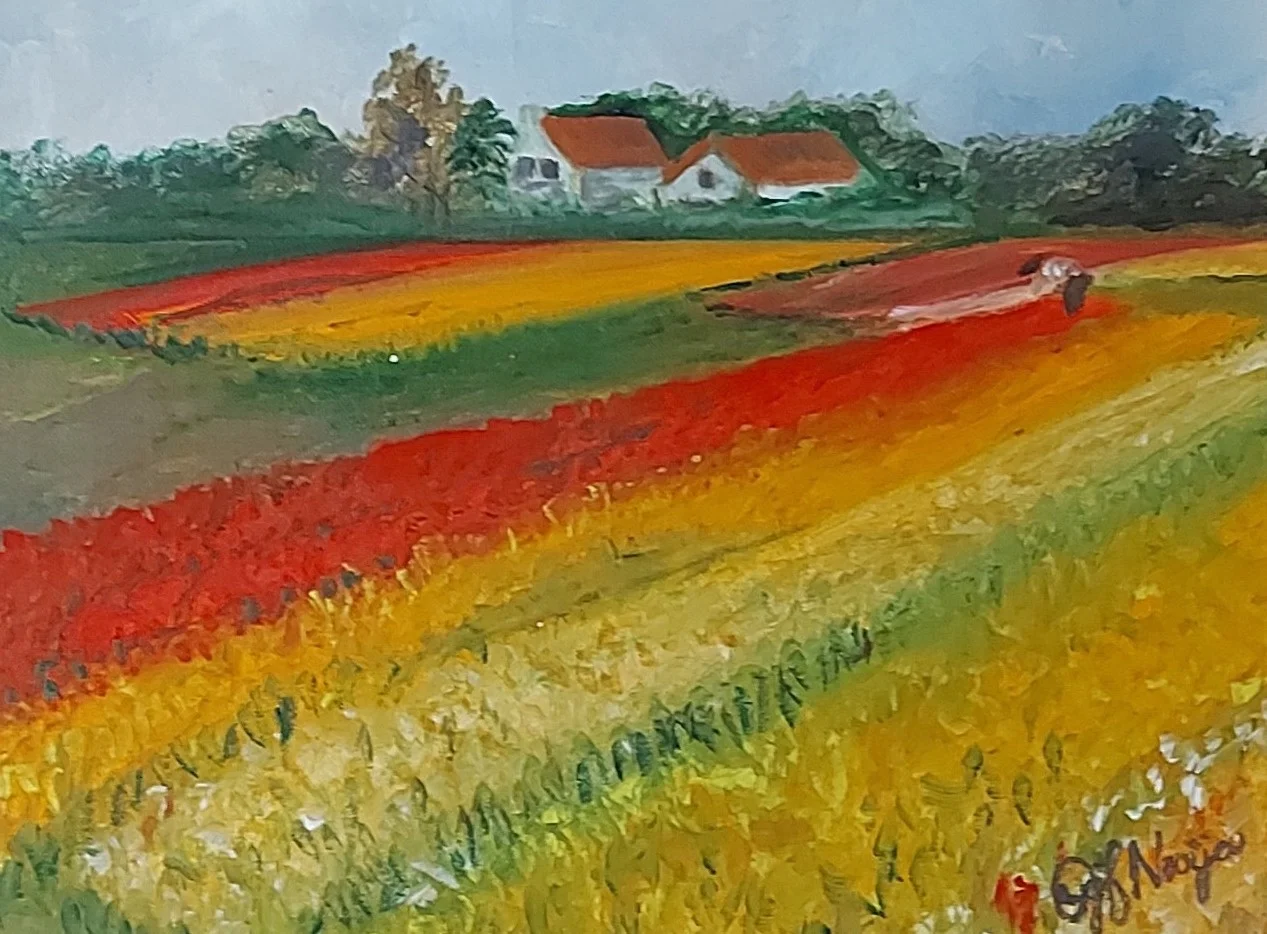 How did you develop the style you are using today?
Dutch landscapes fascinate me. My heart sings when painting cloud formations, the dunes and the sea. Whenever I can I go to the coast. From my home near The Hague it only takes me an hour by bicycle. The North Sea allows you to breathe, empty your head, feel space.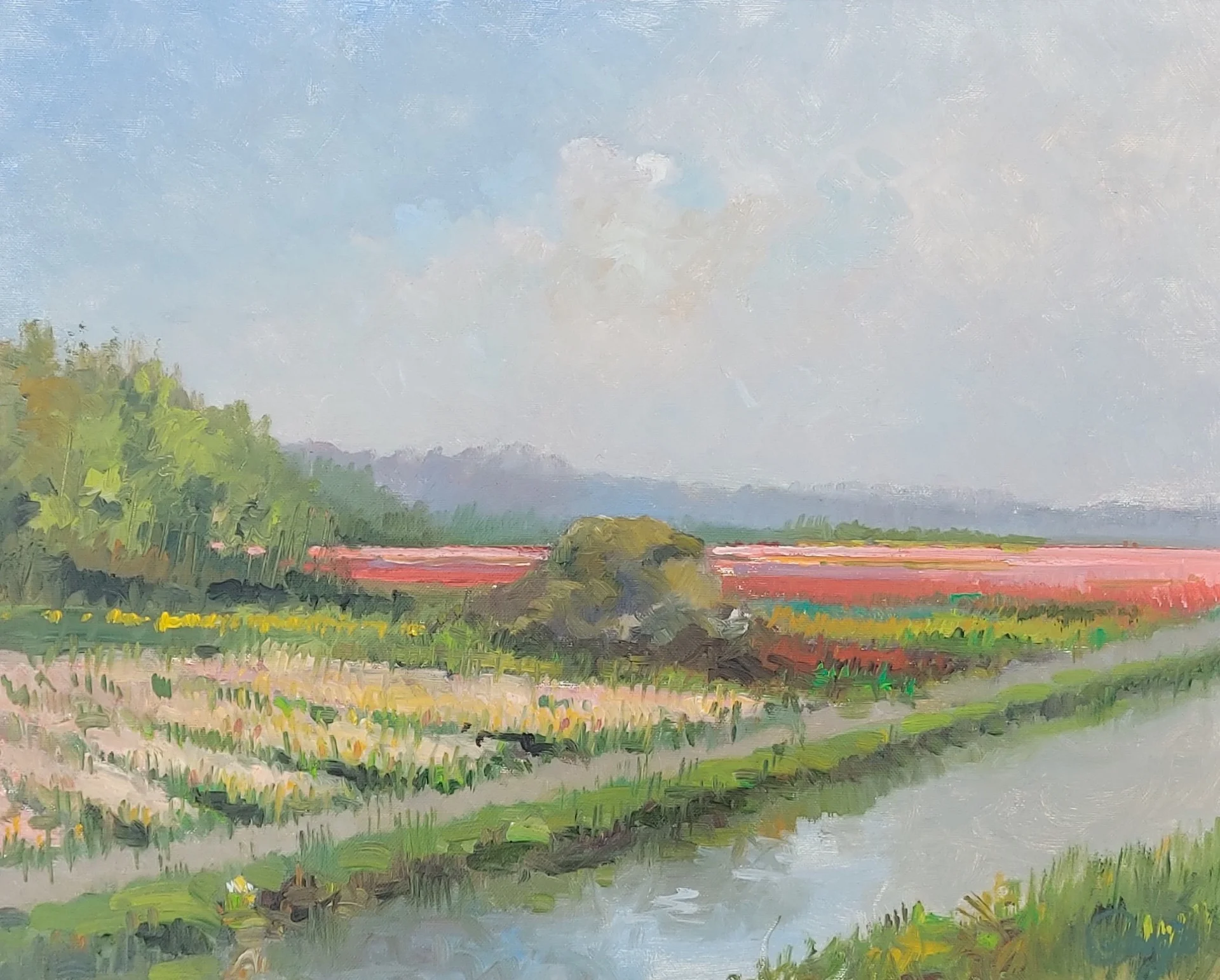 As far as painting is concerned, I have always preferred large work, from my early days. My father painted very detailed, small oils. But I have not got the patience. I went to art classes at the Free Academy in Delft, and portrait painting in Amsterdam. Primarily I investigated where my passion lies. I did this by copying various painting styles, to find my own style. I have succeeded! I love working on a large canvas and with the palette knife. Using tools is not new to me, it is part of my work as a forensic expert.
On commission, I also paint in smaller sizes with oil. But on a large canvas I far prefer acrylic. It enables me to work faster, and the paint dries quicker.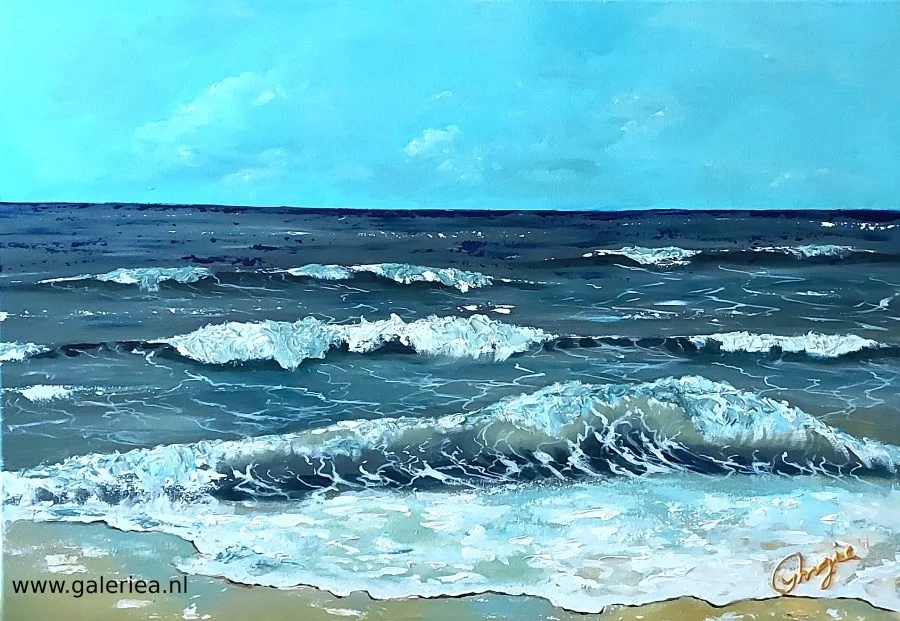 Which other artists or art movements are an example to you?
I love expressionist Mediterranean work. The Spanish painter David Ubaldis is a recent discovery and example, his work is large, abstract and full of colour. Henk Helmantel's paintings are stunning, also Jan van Loon's work. Recently, my work was compared by someone to a Van Loon painting. I felt very honoured.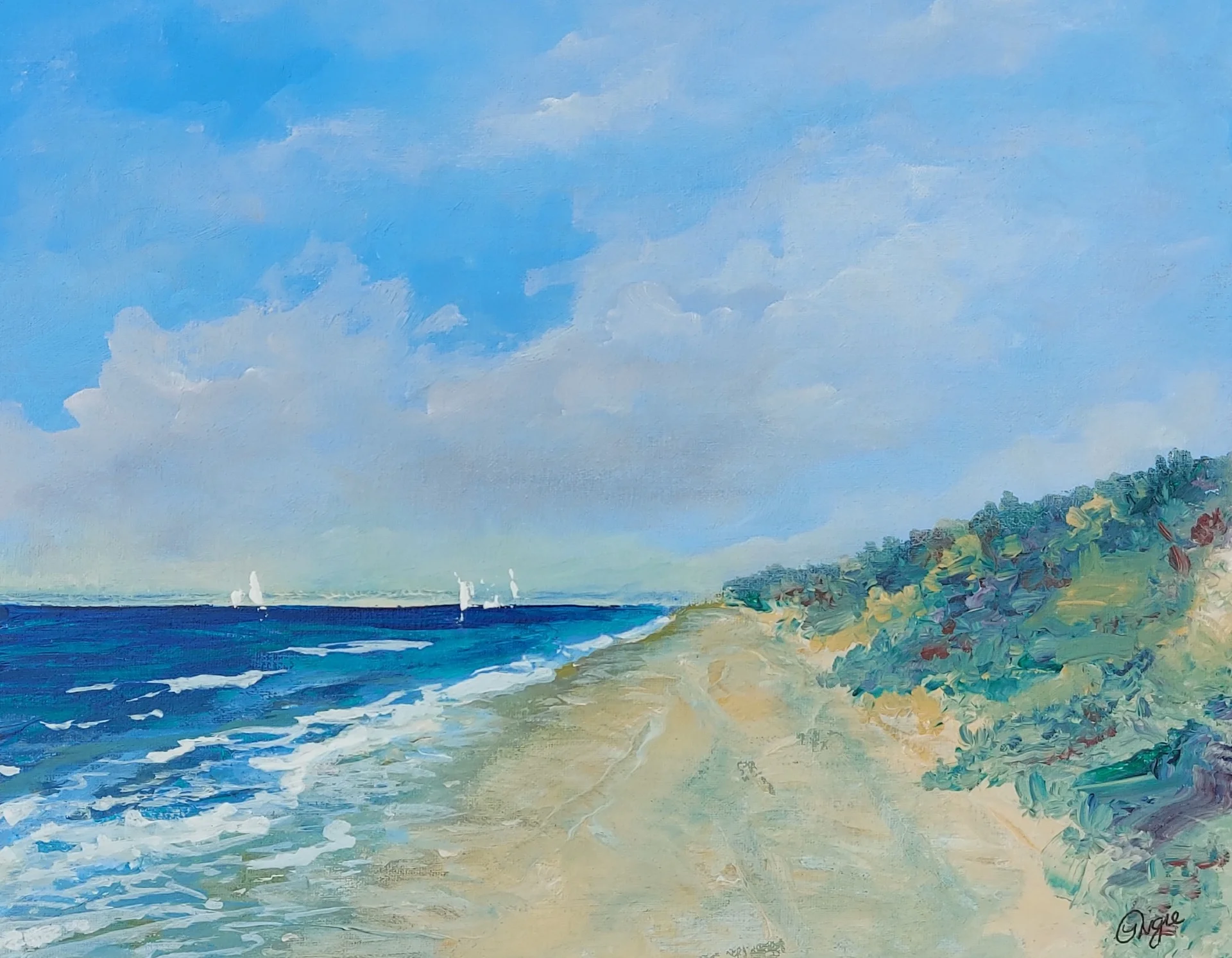 Work by Angélique Nooijs has been shown in the The Hague region (The Netherlands). The artist hopes to exhibit her paintings in the near future in Barcelona.
For more information visit the website of www.galeriea.nl