Breitner vs Israels in the Kunstmuseum The Hague
4 February - 2020
by Vincent Moleveld
103
In the spring of 1892, Isaac Israels (1865-1934) stood face to face with a beautiful snow-covered cityscape in the window of an art gallery in Amsterdam. It was a painting by George Hendrik Breitner (1857-1923) and it made a devastating impression on him. 'I thought to myself: I give up, it's pointless competing with such work,' Israels wrote to a friend. But previously the roles had been reversed. Breitner, seven years older than Israels, had been forced to observe enviously from the sidelines as the child prodigy made his entrance into the art world at the tender age of sixteen. With his faultless technique, the son of Jozef Israëls was seen as the crown prince of Dutch painting. But as Israels tried to break free from his famous father, he aspired to the looser touch with which Breitner had begun to achieve success. The mutual rivalry between these two painters created tensions for years. Throughout their careers, Breitner and Israels admired, envied and inspired each other and their many years of competition spurred each of them to attain greater heights. The exhibition Breitner vs Israels – Friends and Rivals is the first detailed examination of this artistic boxing match.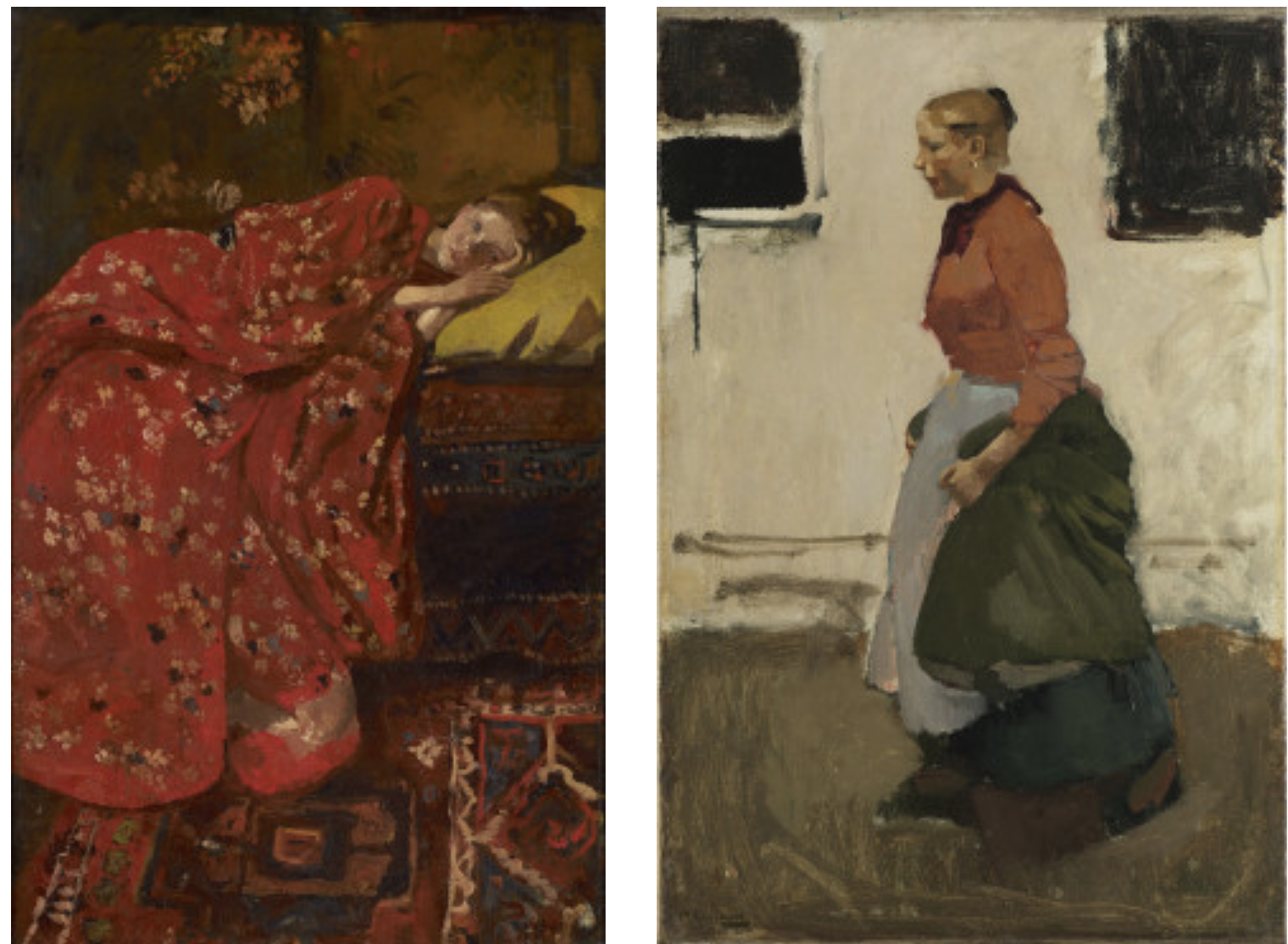 Round One: The Hague
The boxing match between Breitner and Israels lasts for years and comprised several rounds. The match was fought in Amsterdam but began in The Hague, where both artists received their training. Israels was a wunderkind from an intellectual family, born to follow in the footsteps of his father, the great painter Jozef Israëls. The rough and ready Breitner seemed destined to a life as an office clerk, but chose the uncertain existence of an artist. He was certainly talented and showed great promise, but was frequently criticised for his lack of technique. He also lacked access to female models from good families, such as the young Nanette Enthoven-Enthoven, whom the sixteen-year-old Israels portrayed in 1881 to considerable acclaim. In The Hague, Breitner and Israels stood on the shoulders of the painters of the Hague School, who had unleashed a revolution in Dutch painting around 1870 with their free brushwork and depictions of simple farming and fishing communities. But Israels felt the need to step out from the shadow of his famous father, with whom he was always mentioned in the same breath. And Breitner, who constantly battled his own insecurities, was also looking for his own path.


Round Two: Neighbours in Amsterdam
In 1886, Breitner moved to Amsterdam, closely followed by Israels. They rented studios in the same building on the Oosterpark and moved within the same circle of writers and artists. Here, Breitner soon developed into a talented painter of modern urban life. Israels, by contrast, was still trying to find his way. He drew constantly, but completed few paintings and did not exhibit for years. In his letters, Israels confided to his friends that Breitner's work both inspired and intimidated him. When, following years of hesitation, Israels exchanged his drawing-like style for Breitner's looser approach, and, like his rival, tackled the grittier subject matter of factory workers and domestic servants, he too received much praise.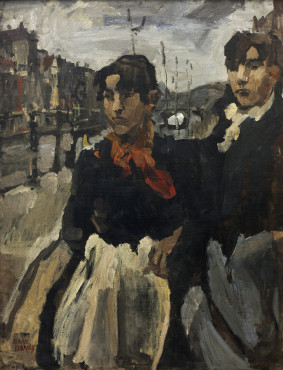 Round Three: Friends and Rivals
In Amsterdam, both artists would eventually become the most important tastemakers of late-nineteenth-century Dutch painting. As members of the group of artists and writers known as the Tachtigers, named after the year 1880, they formed the core of what
can be considered the first real avant-garde movement in the Netherlands, breathing new life into portraiture, the nude and scenes of urban life. They allowed clumps of paint to remain visible, and permitted ugly subjects, as long as they were true
to life. This generation of painters had an innovative vision. They saw art as a calling and considered the artist a genius. Everything revolved around the most individual expression of emotions, impressions and perceptions.

This emphasis on authenticity promoted both innovation and mutual rivalry, not only between Breitner and Israels, but also among the other writers and artists who made up the Tachtigers, who constantly challenged and stimulated each other. This pressure-cooker dynamic soon became a breeding ground for animosity, with many close friendships ending in violent arguments. All too often, their fierce, public, artistic disagreements were merely a cover for personal anguish: unrequited love, bruised egos and fear of competition.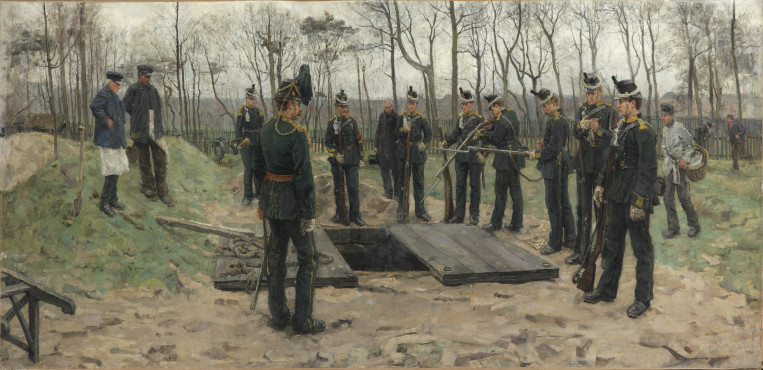 Round Four: Broken Friendship
During the period of Israel's resurrection as a painter, the intensity of his rivalry with Breitner led to the breakdown of their friendship. As a successful artist, Breitner no longer had difficulty finding models. One of these was Gezina Kwak, known
as Geesje, a delicate creature of sixteen. She became Breitner's muse for no fewer than thirteen paintings, her slight form invariably swathed in a kimono. The series capitalised on the craze for all things Japanese that gripped Europe towards the
end of the nineteenth century.

Israels began to find his own voice when he approached painting as he did drawing: making hasty sketches on the street or in the corner of a bar. He turned his attention to another trend of the nineteenth century: painting en plein air. This enabled him to abandon his affected manner of painting and to rid himself of his fixation on details. In this way he painted successful works such as Two Maids on the Lijnbaansgracht in Amsterdam of 1894 and no longer lagged behind Breitner. When Israels was confronted once again with Breitner's snowy cityscape that had paralysed him two years earlier, he described the canvas as 'a very bad and old painting'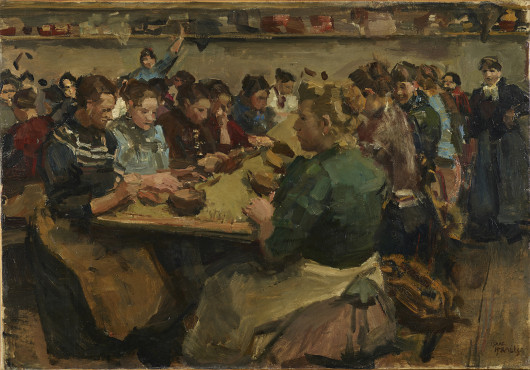 Round Five: Divergent Paths
Breitner and Israels had had no contact with each other for a decade when they met again in 1903 at the grave of a mutual friend. Perhaps the death of their friend made them aware of the fleeting nature of existence or the rivals may simply have grown older and wiser. Whatever the case, that afternoon in addition to burying their friend, they also buried the hatchet, their reconciliation made possible by the fact that they were no longer rivals.
Both men were now celebrated artists and no longer painted the same subjects: their artistic paths had diverged. While Breitner increasingly sought peace and painted bleak images of warehouses and tar distilleries, Israels expanded his market to the rest of Europe and painted sunny seaside scenes. With a frivolous touch and in a bright palette, he focused increasingly on the fashionable world of nouveau riche.
Did the rivalry between Israels and Breitner stimulate them or hold them back? Competition had almost cost many of their friends their heads, but thanks to their own unique talents, these two painters owed much to each other. Who was the winner of this artistic boxing match? You may decide that for yourself.
Kunstmuseum Den Haag
How to get there: www.kunstmuseum.nl/en/visit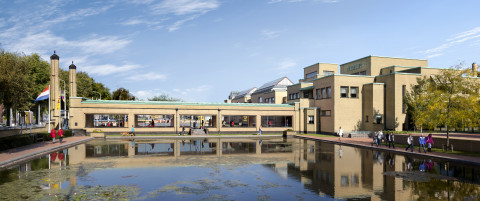 Breitner vs Israels
FRIENDS AND RIVALS
01 February 2020 till 10 May 2020