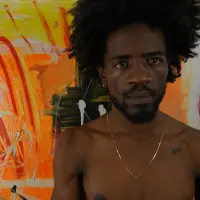 153
About the artist
Al Varo is an Angola-born visual artist. At the age of eight, he arrived in Portugal, and since the age of twenty, he has dedicated himself full-time to painting, using any possible material and mediums available to express himself. Basically, he paints on anything he can get his hands on.   
Álvaro, who also signs as Al Varo, or simply Al, seeks \the total freedom of the creative act, the driving force that pulls his painting towards a raw, free, but also tender and meticulous expression.
An expression that many might categorize as outsider or Brute, but this expression does not allow itself to be confined within these labels; it rather gains strength in the absence of labels and, precisely for that reason, finds in freedom the essence to be born, to assert itself and, at the same time, to self-reflect while observing the external setting.    
 In Álvaro Guilherme's painting, there are no comfort zones.
Read more