About the work
Wie ben je echt? Wat laat je zien aan een ander? In hoeverre verschuil jij je achter kleding of imago? In de serie Portraits zien we een grote diversiteit aan mensen. In een momentopname laten ze iets van zichzelf zien. Ze hebben hun masker afgeworpen. Recht in de camera kijkend, of de blik afgewend: waar zouden ze aan denken? 
Richard Westerhuis heeft een fascinatie voor het menselijk lichaam. Ieder lichaam bestaat uit dezelfde onderdelen, maar toch is iedereen anders. De variatie is eindeloos. De keuze voor naakt ligt voor hem voor de hand, kleding leidt teveel af. Zonder kleding zijn we opeens veel meer hetzelfde. Natuurlijk zijn er individuele verschillen, maar dan ineens lijken we veel meer op elkaar. 
Hier zien we een tegenstelling die zich ook in ons gedrag manifesteert. Enerzijds willen we uniek zijn, maar uiteindelijk willen we niet anders dan anderen zijn. Dat maakt het risico om buiten de groep te vallen te groot. De mens is een sociaal dier, dat leeft in groepen. We functioneren het best als we samen leven met anderen. Door zonder afleiding naar een ander te kunnen kijken, worden we ons bewust van de overeenkomsten. We zien blikken die emoties en gevoelens verraden, die we zelf maar al te goed kennen. De afstand tussen onszelf en de ander wordt hiermee verkleind. Op de eerste plaats zijn we allemaal mens. 
Specifications
| | |
| --- | --- |
| Publisher | ARWE Gallery |
| Framed | Included |
| Certificate of authenticity | Included |
| Signature | Included |
About the artist
Richard Westerhuis maakt conceptuele portretten in beperkte oplage. In zijn werk onderzoekt Richard Westerhuis de ambiguïteit van de menselijke identiteit.
Hoe gaat het met u? Met mij gaat het prima. We weten allemaal dat dit geen echt antwoord is. Het is een geconditioneerd antwoord dat sociaal aanvaardbaar is. We zetten een masker op en geven sociaal wenselijke antwoorden en vertonen sociaal aanvaardbaar gedrag. We spelen verschillende rollen en laten zien dat het gedrag bij die rollen past. Maar waar is ons ware zelf? Bestaat het wel? "Ken jezelf", zei Socrates. Het is de belangrijkste taak in het leven. Richard Westerhuis heeft de nietigheid en de tijdelijkheid van het menselijk bestaan ervaren tijdens zijn oceaanreizen. Halcyon ervaart en herinnert zich voor altijd in zijn systeem.
Other work of ARWE Gallery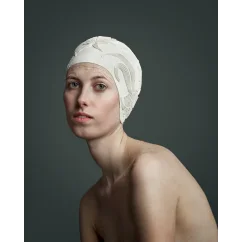 Photography, 40x50 cm (w/h)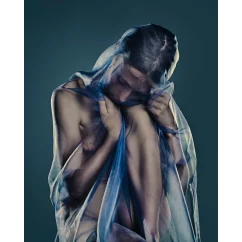 Photography, 40x50 cm (w/h)