About the work
A powerful solar storm hits the earth and changes our modern live.
I wanted to integrate different elements that I personally like very much. For example olives and beans - they accompany me since I am little. That is one reason why the tree and the plant are painted here.
For the creation of this work I used acrylic, oil pastel, modeling clay and gouache.
Specifications
| | |
| --- | --- |
| Publisher | Giuliano Amedeo Tosi |
| Framed | Not included |
| Certificate of authenticity | Included |
| Condition/details | Excellent |
| Signature | Included |
About the artist
About me
Giuliano Amedeo Tosi was born in Bern in 1992. He lives in Zurich, where he also works. He has the Swiss and Italian citizenship and feels closely connected with both countries. Only at the age of 20, he started professionally painting due to his work in the design industry. He has acquired all his skills, mainly independently and autodidactically.
Artistic Statement
The main content of my work deals with distorted, bent, merging, or disappearing representations of figures in unreal spaces or natural landscapes. Painting for me is a playground of unlimited imagination. I often combine realistic elements with things that come from my imagination. The backgrounds now develop more in the direction of nature images. The nature effect brings a nice additional component: the mood. I combine intuitive with precise techniques and I use many different materials. Recently I also work directly with the color of the painting ground (Canvas). The human anatomy and especially the musculoskeletal structure are a very important part of my work and fascinate me enormously. My inspirations I find therefore mostly in the human being itself. The human being is the center of my art. Women, men, young people and children are portrayed. Lately I also integrate animals. The figures mostly show themselves in their natural garb. The beauty of body aesthetics should not be removed by clothing. Sometimes, I go one step further and show muscle fibers and bones next to ordinary bodies.

In most of my works, I try to represent with strong symbolism. The visual language is powerful and exaggerated to convey a clear message.
Other work of Giuliano Amedeo Tosi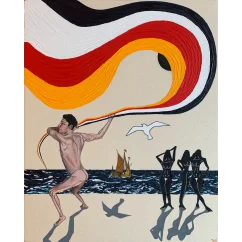 Painting, 40x50x4 cm (w/h/d)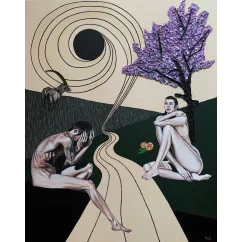 Painting, 40x50x4 cm (w/h/d)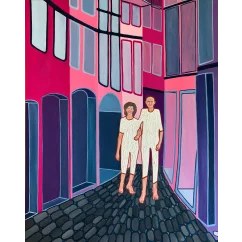 Painting, 80x100 cm (w/h)