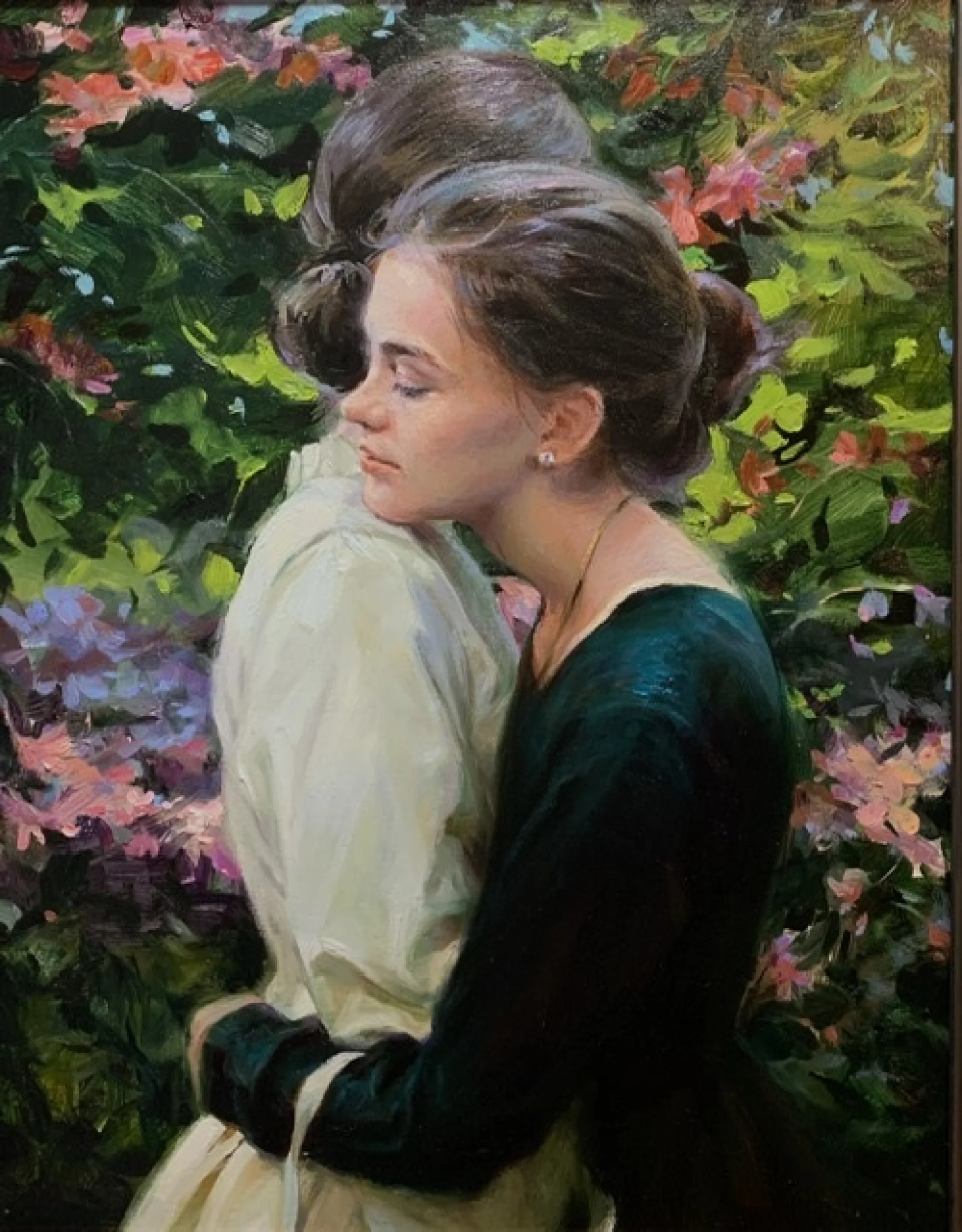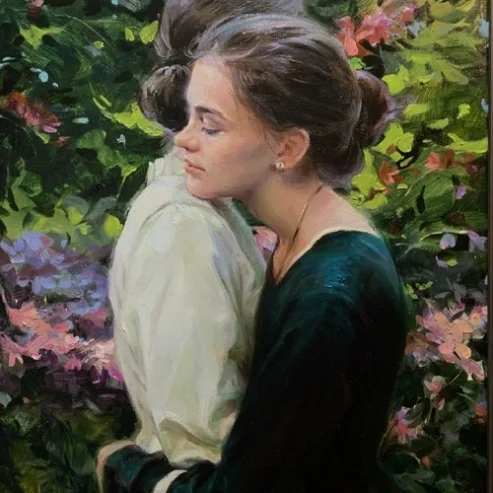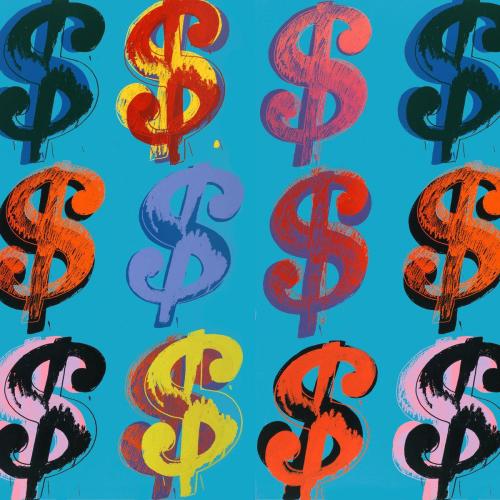 Sell your art online!


- Cheaper, faster and better than your own website!
- Create your own artist page
- Cancel per month

- Direct contact with Artbuyers

- NO commission over sold work!

Top 10: The best portraits on Online Gallery
10 October - 2020
by Femke van Leeuwen
43
This article represents the 10 best portraits by Online Gallery's artists and provides recommendations for commissioned portraits.
1. Embrace II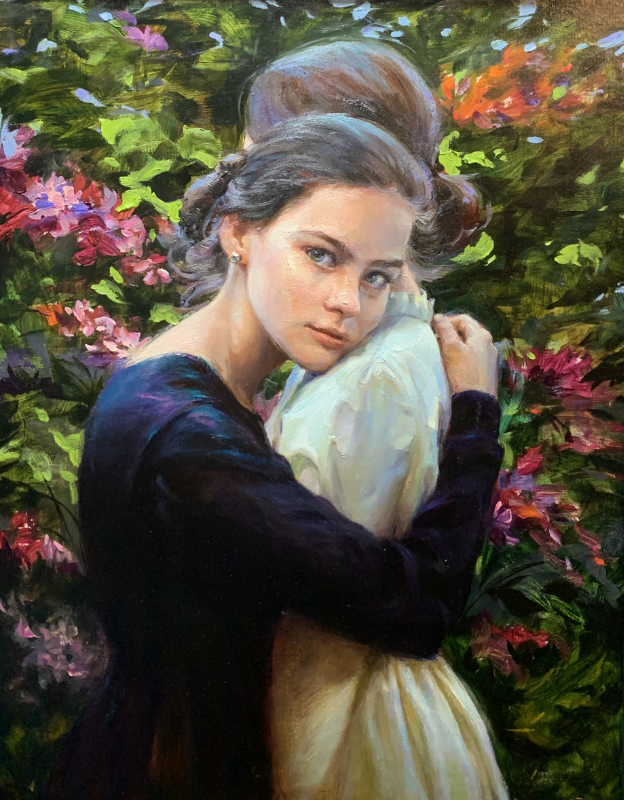 Regina Lyubovnaya – 'Embrace II'
'Embrace II' is a companion painting to 'Embrace I' by Regina Lyubovnaya, which together show two consecutive moments in time. The first painting shows an embrace, while the second embrace is interrupted; the focus is now on the viewer. The figures are painted in a more classical way than the somewhat impressionistic background with its more powerful brushstrokes and vibrant colours.
2. Lovely Illusions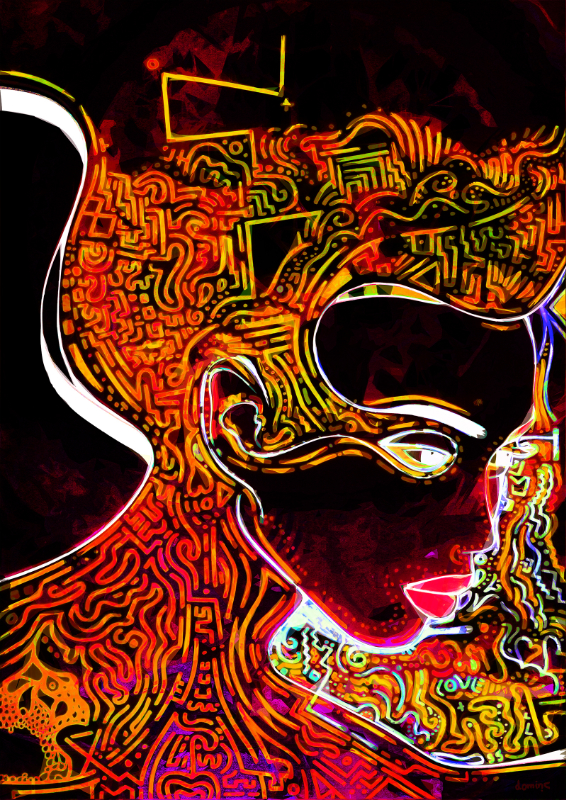 'Lovely Illusions' is a portrait of mixed media artist Dominic Brown, whose work is known for his pioneering use of digital techniques. Brown draws on paper by hand, after which he scans and elaborates the drawing in Photoshop. In the above portrait you can clearly see how he combines his inspiration from ancient civilizations and symbols with his own contemporary visual language.
3. Head XXIII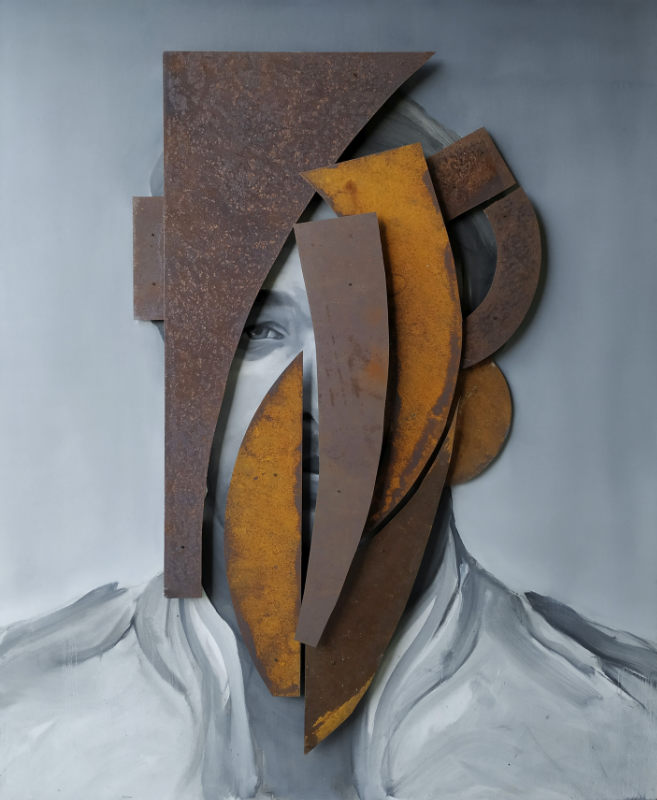 Daniel Martin creates collage portraits by means of material deformation. Martin exerts force on collected objects so that materials become something new, for example by putting them in water, breaking, burning or painting them. These objects are then placed on the head of the respective portrait. He is constantly looking for new ways of seeing objects and applying them to the head.
4. The Village Girl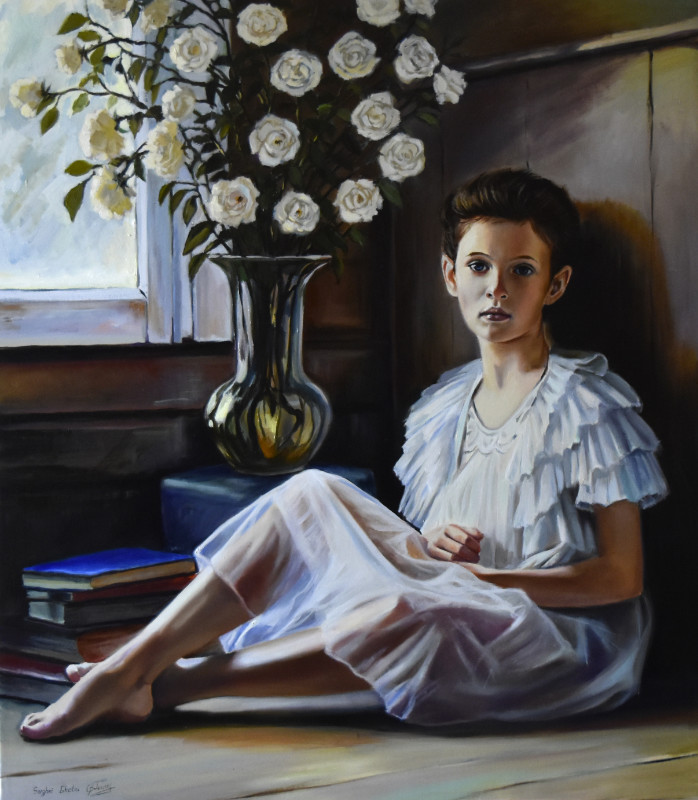 Serghei Ghetiu – 'The village girl'
Serghei Ghetiu's 'The village girl' is a realistic figurative portrait of a girl in a village house during the summer. On this large linen canvas a girl with a slightly bored face is looking at the viewer. She spends her summer next to a stack of books; maybe she wants to go out for a walk, who knows.
5. Copy of Van Gogh's Self-Portrait with Straw Hat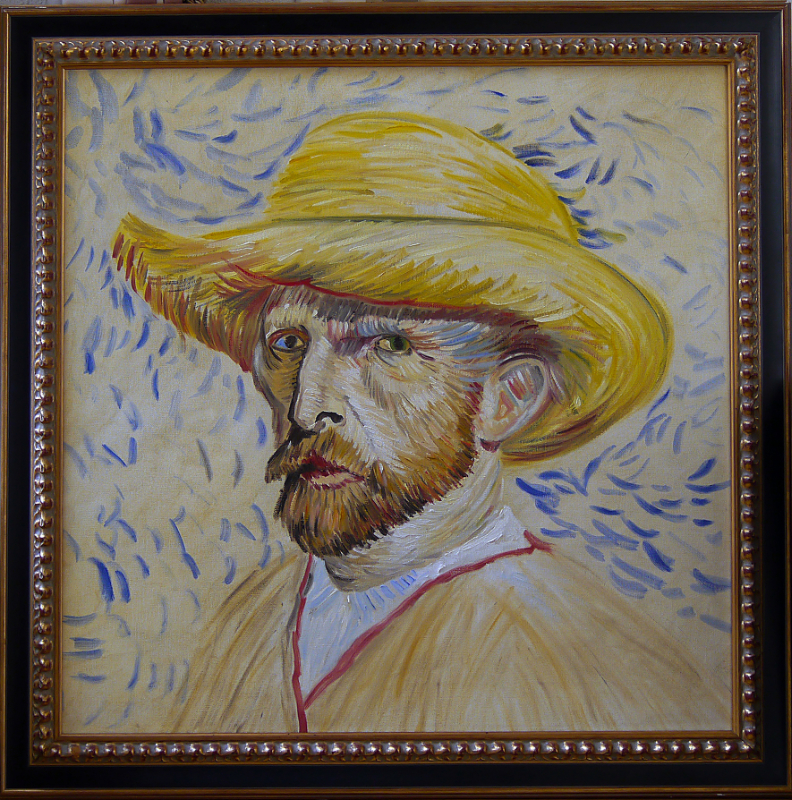 Cornell van Loon – 'Copy of Van Gogh's Self-Portrait with Straw Hat'
Cornell van Loon – 'Kopie van Van Gogh's Zelfportret met strohoed'
Who wouldn't like a Van Gogh on their wall? Somewhere between a cheap poster and an actual Van Gogh, there are the hand-painted copies by Cornell van Loon. For example, Van Loon beautifully painted the above copy of Van Gogh's 'Self-Portrait with Straw Hat'. Read in this interview article how Van Loon started painting these copies and how he manages to do it so well.
6. Secret Space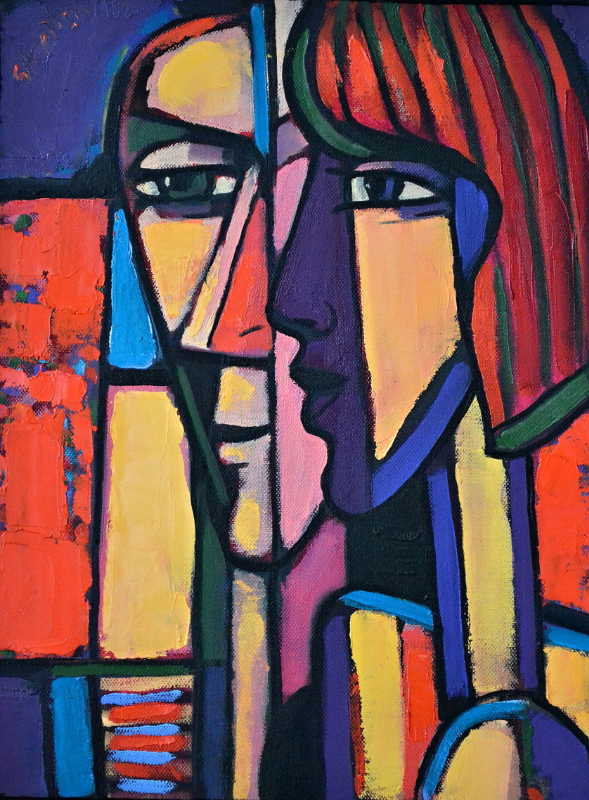 Rumen Sazdov – 'Secret Space'
Nothing is left to chance in Rumen Sazdov's works. In his 'Secret Space' we see two portrayed figures surrounded by geometric shapes and thoughtful colour choices. Movement is an important element in Sazdov's paintings, such as the meeting of two people, colourfully captured in an expressionist cubist style.
7. Untitled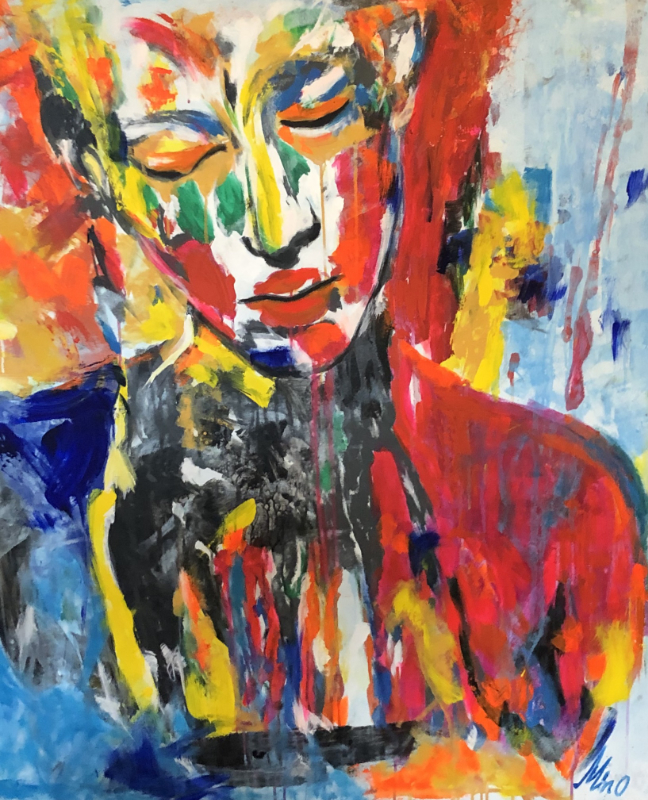 Filipe Gomes – 'Untitled'
Filipe Gomes - better known by his artist name Mino - is a self-taught artist who has created his own style by experimenting with different techniques. Gomes: "The paintings are a result of how I perceive life and its undiluted richness, putting down on the canvas my deepest feelings, perceptions and dreams. The combination of materials, techniques and elements are a montage of all the stimuli I collect."
8. King Willem-Alexander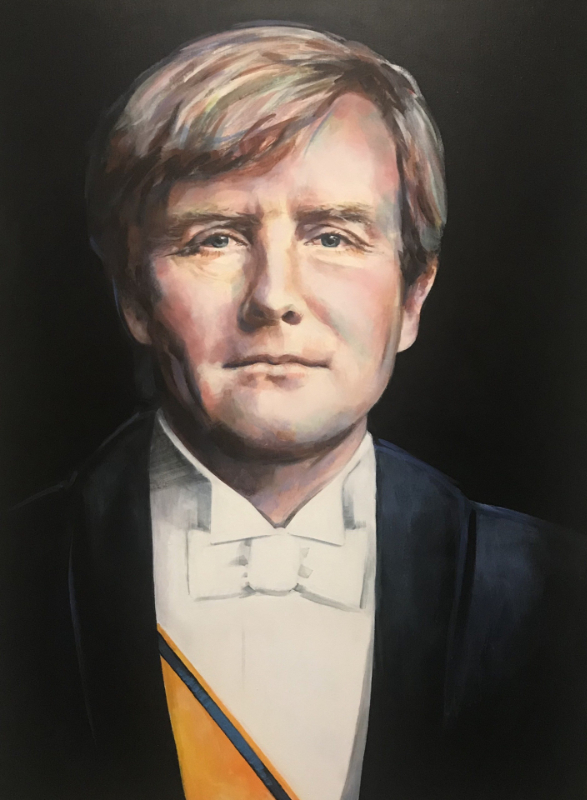 During her high school years, Monique Wolting preferred to spend her time in class on the caricatures she made of her teachers. It is therefore no surprise that she has specialized in portraiture. Wolting makes commissioned portraits, so let us know your wishes by contacting us.
9. Mystifying Girl

Anne-Marie Mackor – 'Mystifying girl'
Anne-Marie Mackor: "I painted this copy of 'A Princess of Saxony' (1517) from the widely admired Lucas Cranach the Elder. I boldly added a kitten whereas Cranach painted remarkably strange hands. I thought it would be a good idea to update it. It is such a mysterious portrait that, even a stunning 500 years later, it definitely continues to seduce." You can also contact Anne-Marie Mackor for a commissioned portrait. Make sure to take a look at her Instagram account to get an idea of her own compositions.
10. The Girl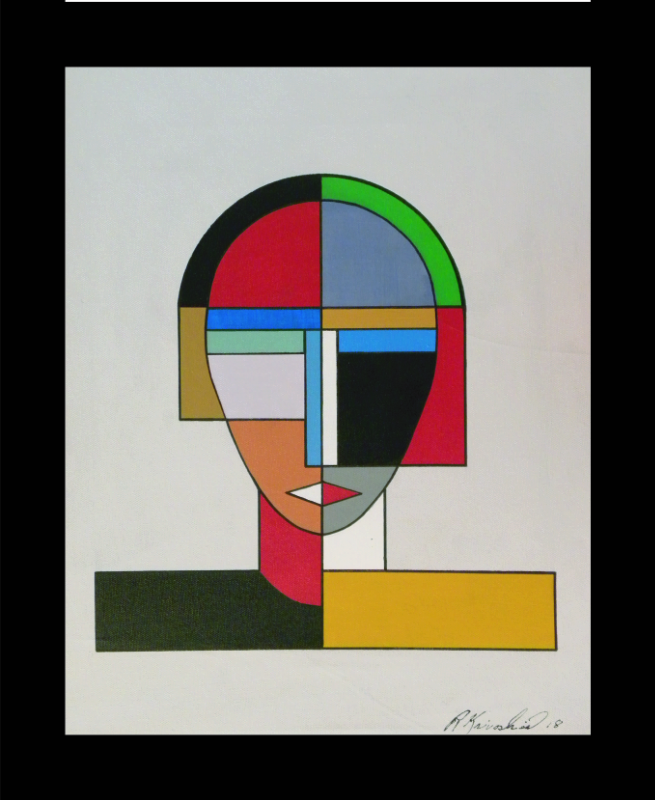 Ronald Krivosheiw – 'The girl'
We close off the top 10 with the geometric portrait "The girl" by Ronald Krivosheiw. At the age of 15 Krivosheiw started working for a graphics company and years later started his own company Speed Graphics. His love for art began in that world. Since he sold Speed Graphics in 1998, Krivosheiw has spent more time creating art. Inspired by Calder, Kandinsky and Miro, he started creating.
Visit the artists' pages for more information on the portraits.
Header image: Regina Lyubovnaya – 'Embrace I'
Go back