Over het werk
INTO THE WOODS  
My artworks are my reflections on life, as I experience it and see it happening around me. With my work I consider themes that concern me; from intrinsic issues to a daily trifle, often with a hint of humor.  
My sources of inspiration are nature, people and the properties of materials. Sustainability is the foundation of everything I make. I stand for a conscious approach to the environment and therefore only work with environmentally friendly or recycled materials. Because these materials are very different, I use various techniques to make them come into their own. Intensive materials research is therefore an important component of my work process.
The Into the Woods series consists of three paintings painted with water-mixable oil paint on recycled cardboard. The paintings of these trees and forests are my reflections on how I see and approach nature. What is PURE Nature, what influence does humans have on this?  
In addition, the research into the many properties of cardboard is also part of what I like to show in my work. After I made further progress in my research, I started to use cardboard as a painting canvas. Then I discovered how I can use its specific 'ripple' properties as an artistic starting point. For both abstract and figurative work.
Specificaties
| | |
| --- | --- |
| Uitgeverij | Inge Prins van Wijngaarden |
| Lijst | Inbegrepen |
| Certificaat van echtheid | Inbegrepen |
| Staat/conditie | Uitstekend |
| Handtekening | Inbegrepen |
Over de kunstenaar
upcoming exhibitions/ events/media: 
March 2021, My work is published in 'Art Hole' Magazine, The magazine will be published on the 15th March 2021. March 2021, My work is published in 'The Working Artist' magazine will be published on the 20th 
March 2021. April 2021, ART Eindhoven, Kunst in het klokgebouw, 17/18 april 2021. 
May 2021, exhibit for SeeYou @ Art in the Foodhallen of Amsterdam, The Netherlands. The theme of this exhibition is fantasy. In the planning for 2021, an exhibition curated and exhibited by artists collective "The Movement"
October 2021 art 10 days Bergen NH the Netherlands. 
October 2021 Publication in, ARTISTS ANTHOLOGY. CONTEMPORARY ARTISTS 2021: MADRID EDITION, The book will contain ISBN registration, legal deposit and copies in the National Library of Spain. 

past exhibitions/ events/media: 
End of January 2021, Exhibition in Laren NH The Netherlands at "taken by the bank". The entire exhibition is dedicated to trees, forests and sustainability. I was asked to participate in this exhibition with my forests painted on cardboard.
December 2020, Group exhibition Atelier departure. 
November 2020, Kunst Kijk Route Baarn, The Netherlands. August / September 2020 exhibition SeeYou@Art Foodhallen Amsterdam The Netherlands. theme, Sustainability and local markets.
August / September 2020 Bar Spek Amsterdam The Netherlands, theme, Sustainability andlocal markets. 
February 2020 restaurant Klein Fornuis Baarn The Netherlands.
January 2020 Gert Wim Hogeveen Baarn The Netherlands.

Biografie Inge Prins van Wijngaarden (11/19/1979)
Inge left her parental home at the age of seventeen to study at the Graphic Lyceum in Amsterdam. As an extra exam subject she had already chosen: crafts / art history
The world and the big city overwhelmed her. She obtained the diploma Graphic Intermediary and then went on to study in a field that still interests her "human behavior". She obtained her diploma "Applied Sciences", worked for a number of years in special education. In this period she also completed the study for "Behavior Specialist".
Inge has always remained creative. In recent years she has worked on the development of her artistry. Last year she took the plunge to continue as a fully independent artist. She finds her way within the art world in her own unique way. Her studio is located in an empty shop building "atelier depARTure". The space is her workplace, but is also used to work with other creative people and to sell art. Her idea is that creativity also brings movement to a shopping area.
The artists collective "the Movement" is a group of artists from all disciplines with whom she likes to collaborate and organize exhibitions. The Movement over Inge: Today we introduce you to our contemporary artist Inge, @ilpvw. Inge makes beautiful art but with her great energy she also knows to bring people together.
Inge still does not only emphasize the making of art. She stays creative in many different ways. She has also seen this in the initiative she took for "We care Art". In collaboration with Online Gallery and the SeeYou@Art foundation, she has made sure that more than 100 works of art have been donated to vital workers who are committed to the fight the corona crisis.
Ander werk van Inge Prins van Wijngaarden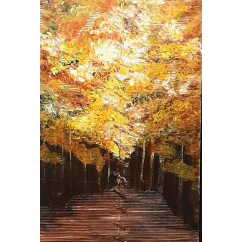 Schilderij, 80x120 cm (w/h)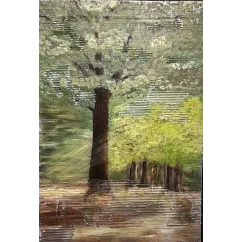 Schilderij, 80x120 cm (w/h)