About the work
Zij, 2019.
Brons gepatineerd.
Eerste editie, oplage 2.
Specifications
| | |
| --- | --- |
| Publisher | Yvan Veninga |
| Certificate of authenticity | Included |
| Condition/details | Excellent |
| Signature | Included |
About the artist
De uitbeeldingskracht van de klassiek opgeleide beeldhouwer Yvan Veninga ligt in de bezieling van zijn geportretteerden en de beheersing van vorm en materiaal. 
Gedurende het creatieproces werkt Veninga gedreven aan de bezieling van zijn mens- of dierportretten. Het is een worsteling met een ongrijpbare entiteit die op enig moment tijdens het hakken of modelleren in het materiaal neerslaat en het onzichtbare zichtbaar maakt. Zoals we de aanwezigheid van een persoon gewaarworden die we niet zien, moet ook het wezen in het beeld voelbaar zijn. Wanneer ten einde het innerlijk van het model door de beeldhuid heen schijnt komt de beeldhouwer tot rust. 
Het werkstuk is pas geslaagd als het de indruk wekt te leven, alsof het ieder moment uit zijn verstilling kan loskomen; zijn blik verplaatst of vanuit het zweefmoment in de draf zou kunnen neerdalen. 
Veninga vervaardigt zowel sculpturen die zijn gehakt uit steen of hout als plastieken die worden opgebouwd in klei, was of gips en gegoten in brons. Daarbij werkt hij zorgvuldig aan de compositie, de anatomie van het model en de afwerking van het beeld.
Other work of Yvan Veninga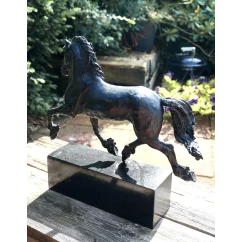 Sculpture, 13x30x39 cm (w/h/d)
Sculpture, 10.2x16x15.5 cm (w/h/d)
Sculpture, 7x15x6 cm (w/h/d)