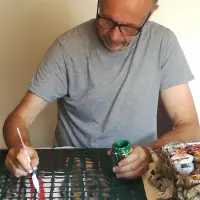 About the artist
Paolo Avanzi (1958) is an Italian artist operating in Milan. He landed in the visual arts, after experiences in several areas (such as psychology, music, creative writing, organization, computer graphics) which enable himself to achieve a multi-disciplinary approach. His production is influenced by Futurism as well as by Pop Art. This approach determines a distortion of traditional perspective that influences not only the colors but also the forms and dimensions of the object. According to the artist style the figures appear distorted and fragmented as seen through a glass. 
Paolo Avanzi participated to several solo and collective exhibitions and art fairs. 
He produced more than 700 artworks since 2003 till today. Nearly one hundred artworks had been auctioned in auction houses. See artprice.com
He participated in several Art Fairs both abroad (Miami, New York and Seoul) and in Italy (Padua, Genoa, Bergamo etc). Among the countless solo and collective exhibitions to be mentioned those by Galleria Arte Capital (Brescia), U. Mastroianni Museum (Marino), Municipal Art Gallery of S. Michele Salentino, Emmediarte Gallery (Milan) and Galleria Centro Arte Moderna (Pisa). For further info you may see artist website: www.paoloavanzi.com
Paolo Avanzi periodically organizes personal and group exhibitions in his atelier Spazio Intelvi 11 located in Dizzasco (near Como lake). 
Paolo Avanzi is furthermore active as writer and cultural promoter. He wrote and published several novels, poetries and essays about art and creativity. For further information you may visit his website www.avanzidicultura.com 
Solo exhibitions
- Solo exhibition by Galleria du lac of Argegno (CO)  (2021)
- Solo exhibition by Biblioteca comunale ofBresso (2020)
- Solo exhibition by Country House Gallery (Rosolina RO) (2019)
- Solo exhibition by Spazio Intelvi 11 di Dizzasco (Como) (2019)
--Solo exhibition by Centro Culturale Click Art di Cormano (2018)
- Solo exhibition by The Bank di Monza (2017)
- Solo exhibition by Weart Gallery (Uboldo VA) (2014)
- Solo exhibition by Biblioteca Il Pertini di Cinisello Balsamo (MI) (2016))
- Solo exhibition by Galleria ArteCapital di Brescia (2015)
- Solo exhibition by Weart Gallery (Uboldo VA) (2014)
- Solo exhibition by Country House Gallery (Rosolina RO) (2014)
- Solo exhibition by sala comunale del Comune di Argegno (2013)
- Solo exhibition by Spazio Intelvi 11 di Dizzasco (Como) (2013)
- Solo exhibition by Country House Gallery (Rosolina RO) (2013)
- Solo exhibition by Spazio cultura - ex-Ghiacciaia del Comune di Bresso (2012)
- Solo exhibition by Galleria Emmediarte di S. Stefano Belbo (2012)
- Solo exhibition by Galleria Emmediarte di Milano ( 2011)
- Solo exhibition by Feel Good di Milano (2011)
- Solo exhibition by Centro civico "Sandro Pertini" di Bresso (2011)
- Solo exhibition by Galleria Centro Arte Moderna (Pisa) (2011)
- Solo exhibition by Galleria Comunale "L'Acchiatura" di Grottaglie (TA) (2011)
- Solo exhibition by Pinacoteca Comunale "S.Cavallo" di S. Michele Salentino (BR) (2011)
- Solo exhibition by Museo U. Mastroianni di Marino (Roma) (2010)
- Solo exhibition by Art Cafè Rieti (2010)
- Solo exhibition by Galleria Arte Capital di Brescia ( 2010)
- Solo exhibition by Golf Club di Annone Brianza (2010)
- Solo exhibition by Enterprise Hotel di Milano (2009)
- Solo exhibition by Banca Sella di Avellino (2009)
- Solo exhibition by Biblioteca Cassina Anna - Milano (2009)
- Solo exhibition by Banca Sella di Cava de' Tirreni (2009)
- Solo exhibition by Banca Sella di Napoli (2009)
- Solo exhibition by Pascucci Caffè di Nola (2009)
- Solo exhibition by Libreria Moderna di Rieti (2009)
- Solo exhibition by Atlas Business & Resort Hotel di Varese (2009)
- Solo exhibition by Palazzo Cusano - Cusano Mil.no (2009)
- Personale, curata da Adelinda Allegretti, presso "Santa Lucia" di Varese (2009)
- Solo exhibition by Atelier Chagall - Alzaia Naviglio Grande, Milano (2008)
- Solo exhibition by Banca Sella - Carugate (Milano) - (2008)
- Solo exhibition by Collezionando Gallery - Roma- (2008)
- Solo exhibition by Galleria Tra la terra e il cielo - Nizza Monferrato (AT) (2008)
- Solo exhibition by Galleria Emmediarte - S. Stefano Belbo (CN) (2008)
- Solo exhibition by Atelier Chagall - Alzaia Naviglio Grande, Milano (2007)
- Solo exhibition by Palazzo Cusani - Cusano Milanino (2007)
- Personale organizzata da Collezionando Gallery - Roma (2007)
- Solo exhibition by Spazio 1 - Circolo culturale Bertolt Brecht (2006)
- Solo exhibition by Galleria Art Action - Bresso - Milano (2006 ) 
- Personale "Il colore della solitudine metropolitana" presso Itinerari d'arte (Milano)  ( 2005)
- Personale "Architetture cromatiche" presso Galleria Is-Tinto (Milano) (2005)
- Personali presso locations di Monza (organizzate da LLCOM - Communication Agency) - (2005)
- Personale "Interiors transifguration" presso Spazio- Circolo culturale Bertolt Brecht (2005)
- Solo exhibition by Museo Sandretto della Plastica - Pont Canavese (TO) - (2004)
- Solo exhibition by Galleria Gabriella - Busto Arsizio (Varese) - ( 2004)
Read more