About the work
I am not the Devil, I am your Dog is part of the series #Searching for #serenity ​​​​ (2018 -2020)
This is a series of drawings based on conversations with numerous people in recovery from drug and alcoholabuse. How does one find peace of mind in the  fast spinning self obsessed turmoil of our everyday lives - without the use of external substances? The conversations resulted in a series drawings aiming to make inner-selfies. To portray what lays under the perfect social media profile-picture, when  both the failing and succeeding in the struggle to find serenity and happines may be visible ...
The series has expanded in to a weekly live drawing session for people in recovery thanks to the Salvation Army in Amsterdam. 
Specifications
| | |
| --- | --- |
| Publisher | Ossa Kierkegaard |
| Framed | Not included |
| Certificate of authenticity | Not included |
| Condition/details | Excellent |
| Signature | Included |
About the artist
Name: Ossa Kierkegaard, Born in: Sundsvall, Zweden 
Now lives and work in Amsterdam, the Netherlands
2004 – 2021
*Conceptual en visual artist and designer. 
Education 2004
Gerrit Rietveld Academie.  
Education 2016
Teacher of art, design and Arthistory,  1ste graad bevoegdheid. 
Amsterdamse Hogeschool voor de Kunsten. 
Soloexpositions
*An athmospheric hymne to a world in crisis,  huis Berg en Dal, Baarn curated by Emiel Pijl 
*De Vitrine, Amsterdam West, curated by Beatrice Puijk, The Bookstoorfoundation 
 Groupexpositions
*Listen, De Hallen, Amsterdam, curated by SeeyouatArt,  *Nasty women Amsterdam, Josilda da Conceição Gallery, Amsterdam 
Nasty Women Mexico, Museo Memoria y Tolerecia, Mexico City, Nasty women Amsterdam, De Balie, Amsterdam,  
*10 jaar onverwerkt verleden, De Balie, Amsterdam, together with Jean van Lingen. 
The exposition was officially openend by the dutch Minister of Culture, Education and Sience ; Jet Bussemaker 
Lightinstallation/Artwork projected on buildings during the lightfestival in  Gemeente den Helder,   
Zomer Expo, Earth, Gemeente Museum den Haag,  * Sun, Light, Colour Spectrum, Galerie Grang de Paul, den Bosch
curated by  Sarlon Maria,  De Ruimte, Galerie KULTER, Amsterdam, curated by Julie Dassau,  *Movement, Kasteel Nemelaar
curated by Carole Vos,  Eat. Play,  Galerie KULTER, Amsterdam, curated by Julie Dassau,   *Reflections,  Galerie KULTER, Amsterdam 
curated by Julie Dassau 
Collections 
*Amsterdam,  Ink drawing  - Searching for serenity , Peter the fisherman
*Gouda, two wallbased installations;  01- Aspiratiewaarde en  02 – Eigenwaarde. 
*Alpha aan de Rijn,  five wallbased installations. 
*Nieuw Vennep, Painting
Other work of Ossa Kierkegaard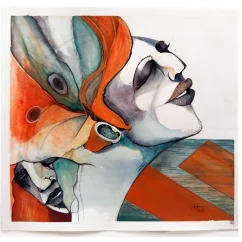 Work on paper, 50x50 cm (w/h)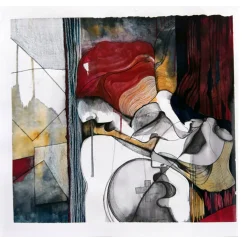 Work on paper, 50x50 cm (w/h)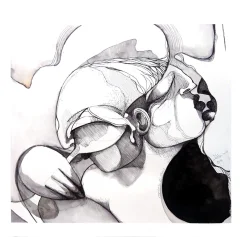 Work on paper, 50x50 cm (w/h)