About the work
Manual Gelatin-Silver Photography
Title : Stay forever ( poetic session 'Walk in the clouds' , only 30 different frames for poetry themes)

Date : 09.2020
Model : Natalia Dokudowiec

Artistic category of the topic : Portrait

+ painting technique : yes

Artist signature : artist's signature on the obverse
Dry stamp : yes
type : Vintage
Certificate of Authenticity : yes
Total Size : 40x50cm
Paper Size : 30x40cm
Image Size : 27x37cm
Frame : Black aluminum frame
Unique Number : 3061
Edition : 20
The next issue from the edition : 1
Additional Information : Manual Gelatin Silver ART FB matt Photography. Signature and dry stamp. Vintage Style . Special multiple exposure and manual paint finish .
Specifications
| | |
| --- | --- |
| Publisher | Krzysztof Swęd |
| Framed | Included |
| Certificate of authenticity | Included |
| Condition/details | Excellent |
| Signature | Included |
About the artist
Krzysztof Swed is an art photographer born in 1966 in Poland. He is involved in analog photography. My paintings are mainly female photography. All photos are taken during art sessions.
I take photos in a classic style. Brought up in the photos of Georg Hurrell.
Almost all paintings are inspired by poetry. They contain a number of emotions, the interpretation of which I leave to the viewer. Some photography are described in dedicated poetry. I take part in national and international competitions, receiving a number of nominations and awards. The last ones listed below.
I take all photos in limited editions from 1 to 20 pcs. In the case of gelatine photos, I try to give each of them an individual character. I often combine various artistic techniques (brush, felt-tip pen, varnish). Most of my works are portraits and female nudes. In my work, I use Polish poetry and the poetry of William Butler Yeats. Some themes receive poetry dedicated to them. I do all my work on negatives. Only classic without digital photography.
Recent :
Honorable mention on the nationwide portrait competition in 2017
Honorable mention on the nationwide portrait competition in 2018
Honorable mention on the international monochrome awards 2018 ( portrait )
Five Nominations in the 5th edition of international Fine Art. Photography Awards
Monovisions Photograpy Awards 2020 Honorable Mention - Photo, Conceptual, 2020
Monovisions Photograpy Awards 2020 Honorable Mention - Series, Portrait, 2020
Monochrome Awards Honorable Mention 2020 Nude
Fine Art Photography 7th Conceptual
Other work of Krzysztof Swęd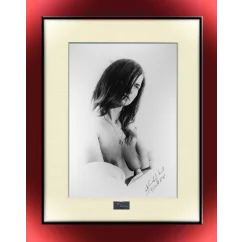 Photography, 40x50 cm (w/h)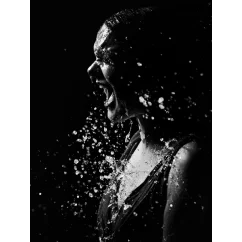 Photography, 60x80 cm (w/h)