About the work
Olieverfportret van romancier, dichter, toneelschrijver en filmregisseur, Michel Houellebecq.
Specifications
| | |
| --- | --- |
| Publisher | Gerrit Breteler |
| Framed | Not included |
| Condition/details | Excellent |
| Signature | Included |
About the artist
Drompelprijs voor beste afgestudeerde student aan de Vredeman-De Vries-kunstacademie in de gemeente Leeuwarden in 1975.
Cultuurprijs van de gemeente Dongeradeel.
Exposities in onder andere Frankrijk, Duitsland en Engeland
Expositie in theater de Lawei te Drachten in 1994.
Expositie in Admiraliteitshuis Dokkum, De Gouden Eeuw van Gerrit Breteler in 2006.
Expositie in Schierstins Veenwouden in 2010
Expositie in Munt- en Penningkabinet Surhuisterveen in 2011
Expositie in Zeisterslot in 2014.
Expositie in gallerie Peter Bax in Sneek 2014.
Expositie in Theaterkerk Nes in 2018+2020.
Expositie Garnalenfabriek in 2018.
Expositie in Jopie Huismanmuseum te Workum in 2019.
Portretopdrachten van hoogleraren aan verschillende universiteiten in Nederland, onder andere Rijksuniversiteit Groningen, permanent in de senaatskamer, en Vrije Universiteit Amsterdam.

Geboren in Enschede (1954) komt Gerrit met zijn Twentse vader en Friese moeder als 13-jarige jongen in 1967 naar Friesland. Het platteland ervaart hij als een onuitputtelijke bron van inspiratie. Hij woont al jaren met zijn vrouw en twee kinderen in een grote oude boerderij bij het dorpje Nes, nabij de Waddenzee.
Gerrit Breteler al op jonge leeftijd voelt hij zich aangetrokken tot de beeldende kunst en ontvangt hij zijn opleiding aan de kunst-academie "Vredeman de Vries" in Leeuwarden. Hij ontwikkelt zich tot een veelzijdig kunstenaar.
Gerrit Breteler
In de schilderkunst gaat zijn belangstelling vooral uit naar de traditionele stijl, waarin het ambacht een essentieel onderdeel is van de kunst. In de jaren 70/80, gedurende zijn ontwikkeling, bevindt de waardering voor het traditionele ambacht binnen de kunst-opleidingen zich op een dieptepunt en is Gerrit genoodzaakt zijn kennis te vergaren in musea en bij gelijkgestemde kunstschilders. Het hedendaagse werk van Gerrit kenmerkt zich door passie en vakmanschap. Zijn grote scheppingsdrang beperkt zich niet alleen tot het schilderen, hij uit zich ook graag in muziek, zang, gedichten en het schrijven van toneelstukken.
Other work of Gerrit Breteler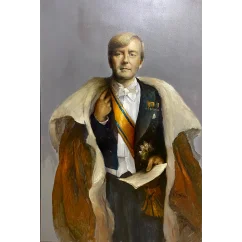 Painting, 100x120 cm (w/h)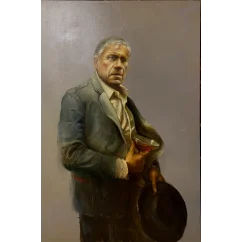 Painting, 100x120 cm (w/h)