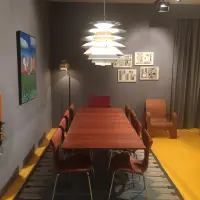 553
About the gallery
Established by Gooitsen Postma in 2000.
Zitzo Gallery specializes in rare, original works of Danish furniture designed during 1920-70. We also represent other contemporary European and American designers and architects who were ahead of their time.
We have a restoration and a upholstery collaboration with professional skilled craftsmen, photography studio and showroom/gallery. No item leaves our showroom before it is completely checked by our craftsman. The expertise of our craftsmen guarantees that everything that leaves our company would surpass our clients expectations.
Zitzo Gallery has supplied pieces to national and international collectors and museums. For example to the Stedelijk Museum Amsterdam, Boymans van Beuningen in Rotterdam and The Fukuyama Auto & Clock Museum in Japan.
The Zitzo team is glad to answer any questions you might have about our pieces or their possible transports. Foreign payments can be made by wire transfer. The buyer will be asked to cover the costs of transport, we do, however, assist with the organisation of packing and shipping. Ask for our competitive shipping quotes.
Read more