About the work
This decorative abstract painting on canvas board combines thin glazes and thicker impasto paint applied with a palette knife, highlighted by a yellow motion as a contrast to the static dark tone rectangles. Perfect for a modern interior. 
Measuring 30x40 cm (approx. 23.6 x 31.5 inches), this painting is mounted in a wooden cube at the back of the canvas board, protruding 3cm (0.4 inches) from the wall, and giving the painting a fresh modern look. No extra framing is required and the painting is ready to hang as soon as you unpack it. 
It is signed on the front and at the back of the canvas with date and place of the creation.
The painting will be carefully packaged to ensure comprehensive protection. 
For further questions related to the painting or shipping details feel free to reach out to me at art@farbenorchester.com 
Note: All my artworks are finished with gloss varnish to protect the painting.
Specifications
| | |
| --- | --- |
| Publisher | Farbenorchester |
| Framed | Not included |
| Certificate of authenticity | Included |
| Condition/details | Excellent |
| Signature | Included |
About the artist
I am an abstract artist from Belgium, based in Berlin. My inspiration for my artwork derives from the random and attentive encounters with people, environment, objects, and music by blending my own expression of emotions into the painting process. My paintings connect intimately with the world outside of our ordinary sensory perception, through the power of bright colours, shades and movements. 
I have a passion for classical music and it often accompanies me through the creative process. There is no doubt my paintings contain a musical character that the observer's eye will not perceive prima facie, but which is deeply interwoven with the movements of the tools I use. It is as if an invisible hand wielded subtle control over the direction of the outcome of the painting.
For more artworks follow me on Instagram: @art.farbenorchester
Other work of Farbenorchester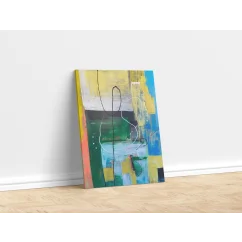 Painting, 60x80 cm (w/h)
Closes from
30 Apr 2021 19:57
---
Current bid € 101,-