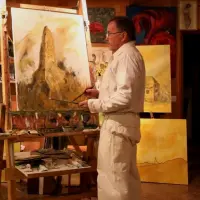 About the artist
Graduate painter
I chose my way in painting about twenty-five years ago. I soon got to know that painting is a big mystery. I started to search for knowledge on painting meetings, seminars and everywhere where I saw a painting canvas and a painter. I also got to know various differences and created my image of a quality artist. I discovered that an in-depth study of painting isn't easy. As I decided to upgrade my knowledge to make professional assessments of my artwork and defend my artistic expression with suitable arguments I found an institution that offered me that. I got my knowledge in the School for Drawing and Painting in Ljubljana, Arthouse-College of Visual Arts.  I Graduated in October 2012 with the help of mentors Ernest Ženk, Ph.D. and Mladen Jernejc, MA.
With my diploma thesis Ohranjanje kulturne dediščine na slikah slikarjev avtodidaktov (Preservation of Cultural Heritage on Paintings of Self-taught Painters) I discussed the field of Slovenian cultural heritage, especially of regular and secular buildings that self-taught painters love to paint so much.
I continue my painting path, painting especially with my beloved acrylics and oil. I occasionally create with watercolour, I am also trying to make a format with projections according to my own ideas.
Photography and video belong to my services as well. I try to capture the beauty of the Slovenian landscape, characteristics of people and interesting events. I use many photographs for preparation of my paintings. Photographs are my substitute for sketches when I decide to paint motives from nature.
Art historian Anamarija Stibilj Šajn: 
»Ernest Artič has an interesting artistically formal approach to his topic. He assembles painting carriers, creates compositions according to the principle picture in (on) picture or at picture. Such classical comprehension of the painting stage leads to (post)modernistic treatment. Even though the basic picture and its addition are dependent, they are correctly different in style. The author is still able to connect then into a homogenous whole. The painting of a smaller format represents a counterpoint, a continuation or a lesson of the story. Diversity surely works in favour of the painter's wish for expression and communication. Paintings with minimalistic approach put forward Artič's study of clean forms and colour relations, his colour cleansing and homogenisation of single surfaces. Figurative scenes with identifiable content have a strong expressive power, created with lines and colours. This is the way the author presents his engaged relationship towards the chosen topic. His works have a socially critical role and connect the message of the painting with the teacher's position, since according to Norbert Lynton, an artist is also a teacher.«
Read more
Artworks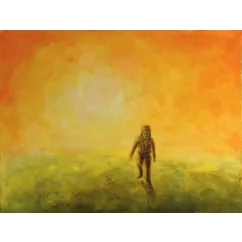 Painting, 70x90x2 cm (w/h/d)
Sale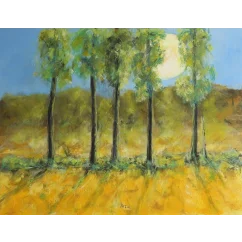 Painting, 90x70x2 cm (w/h/d)