About the work
Look at the thrill of this painting, the turbulent moment of the attack, the cloudy sky and the golden meadow under the horses and the dust in the air, look at the accessories halved on the horse saddle and the type of Indian clothing ... like a proven sequence  In a movie, you are immersed in the excitement of this painting and travel to the "Wild West" era.  A time when humans had to fight to survive ....
Specifications
| | |
| --- | --- |
| Publisher | BarBeni |
| Framed | Not included |
| Certificate of authenticity | Not included |
| Condition/details | Excellent |
| Signature | Included |
About the artist
My name is Behzad Mojarad Bigdeli, born on January 4, 1981 in Tehran, Iran.
recently I have came in Germany and I live in beautiful city ,Bad Zwischenahn.
I have a degree in architecture and I have also received a certificate in sculpture from the University of Tehran. In Iran, I have held numerous group and individual exhibitions on cultural and social issues. Many of my works in physical and online exhibitions with artistic name " barbeni" is sold. My favorite style in realism and figurative painting and the medium I use is oil paint on canvas.
Other work of BarBeni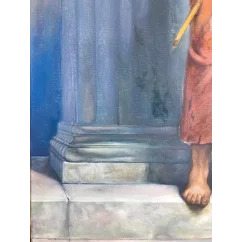 Painting, 70x100x2 cm (w/h/d)
Sale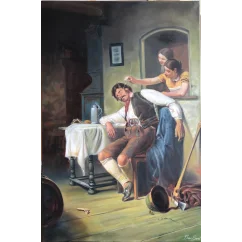 Painting, 60x80x2 cm (w/h/d)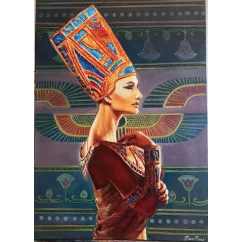 Painting, 50x70x2 cm (w/h/d)