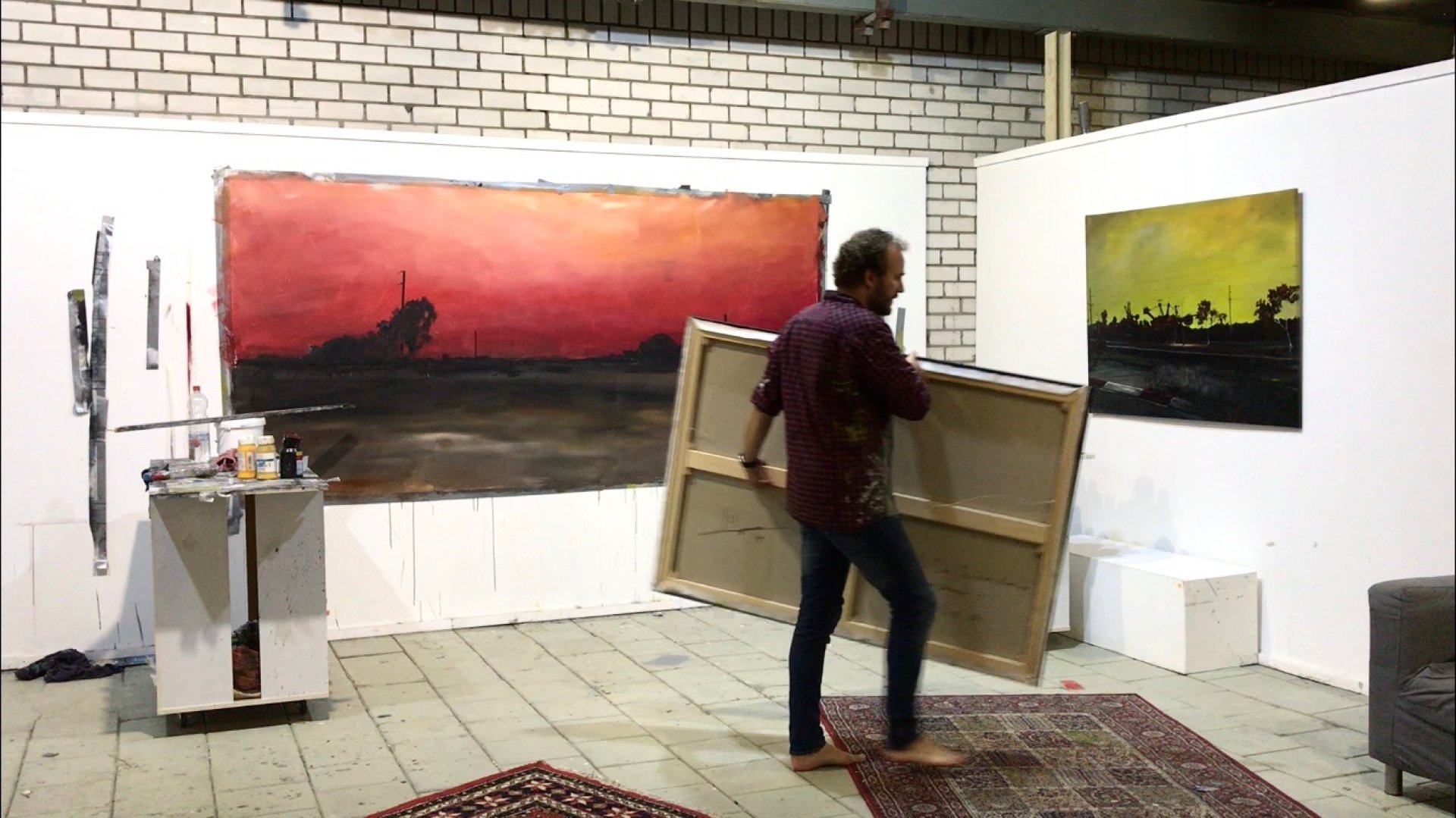 About the work

About the artist
This landscape painting is based on photo taken from my dashcam, while driving around in Port Hedland - Northwest Australia (2012). It shows an amazing summer sunset, with in the background massive iron ore loaders in the seaport of Hedland. Like it's a scene from War of the Worlds. An unreal contrast between fragile nature and the extreme industrial machinery used in one of oldest landscapes on this planet.

I first made my underpainting in acrylic and Gesso. This to create a perfect, solid texture for the following layers. Then I started working on multiple layers of a combination of thick and thin traits of acrylic. Then finished with a slightly glossy varnish.
Joost Verhagen (1975) is an artist painter, specialized at the Antwerp Royal Academy of Fine Arts – specialisation Industrial Landscapes.

He gained experience as a landscape and portrait painter and is working on a daily basis at his own studio – Atelier Joost Verhagen.

His preferred work of fine art is creating portraits and landscapes on canvas and his techniques vary from urban art to abstract work and semi-realism in oil and acrylic.

"As an artist, you aim to create and innovate. But I also believe in simple but powerful work. Don't go for complexity without reason. The composition must be able to speak for itself and the used material and techniques must fit in with the thought process. I am always searching for this fragile balance between abstract and realistic, and to get as close to this tipping point as possible".

Joost has held several (solo) exhibitions in the Netherlands, Belgium and India.
Specifications
| | |
| --- | --- |
| Publisher | Joost Verhagen |
| Framed | Not included |
| Certificate of authenticity | Included |
| Condition/details | Excellent |
| Signature | Included |
Other work of Joost Verhagen