Dimensions
25x45x30 cm (w/h/d)
About the work
Voor meer foto's graag even contact opnemen met mij svp.
 
De Chimp weegt zo'n 25kg, verzendkosten zijn daarom afhankelijk van de plaats van bestemming.
Specifications
| | |
| --- | --- |
| Publisher | Anja Bouwens |
| Certificate of authenticity | Not included |
| Condition/details | Excellent |
| Signature | Included |
About the artist
"Imperfectie als Kunst." 
Kunst is een communicatievorm waarin het onbewuste naar bewustzijn kan worden getransformeerd en dat gaat niet altijd zonder horten en stoten.
Haar kleurrijke schalen, vazen en sculpturen zijn in beweging, zorgvuldig en balancerend over het leven, een volgende stap.
Het gebruik van felle en bijzondere kleuren alsmede de aparte, vloeiende vormen van haar werken, zijn haar handelsmerk. Tijdens haar werk is ze gefixeerd op wat ze ziet, voelt en ervaart. De vluchtige momenten van het alledaagse leven groeien zo uit tot een uitdrukking van beweging in symboliek.
 Waar zij naar streeft en blij van wordt is als mensen haar werk "voelen".
Anja exposeert via diverse gerenommeerde galeries en op kunstbeurzen in binnen- en buitenland.               Zij werkt ook in opdracht voor bedrijven en particulieren.
Other work of Anja Bouwens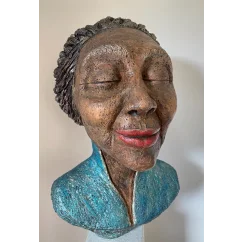 Sculpture, 22x38x23 cm (w/h/d)
Closes from
9 May 2021 15:00
---
Starting bid € 1.500,-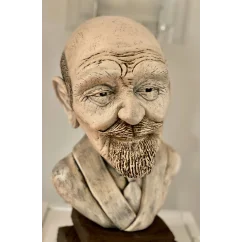 Sculpture, 25x32x21 cm (w/h/d)
Closes from
9 May 2021 15:01
---
Starting bid € 1.500,-