About the work
Did you know that red is the color of fire and blood, so it is associated with energy, war, danger, strength, power, determination as well as passion, desire, and love.
"Red mood"
Painting that impesses!
Don't you know what to present to your relative, friend or colleague? That is the best variant for sure! Vivid colors on black backgroung will revive and motivate everyone.
Several month ago i change the country of living and felt into very depressive mood. I didn't know what to do. The only thing i wanted was to give up. However. every day i looked into the window and saw the flag of the country (as you can guess, it was red). I started to think about that color. Why red? Why on the flag? The other day i had an idea of painting. I didn't think about anything but my work. Only after the moment i had finished it i understood, i put the red flag energy on my picture.
I suppose, you can feel this too.
Thank you!
Specifications
| | |
| --- | --- |
| Publisher | Alexandra |
| Framed | Included |
| Certificate of authenticity | Not included |
| Condition/details | Excellent |
| Signature | Included |
About the artist
Who am I? That question I asked myself during all my life.
Recentrly, the right answer came. I have always been an artist.
After some years of thinking i asked myself again. What is an art for me?
Painting means communication for artists, it is used as a language to express their ideas and thoughts, vision that an artist has of the world and of what happens in it.
Painting means putting the reality of every day life on canvas by means of colors and shapes.
Painting is the expression of the person's history, ihis present and his future.
Painting it is the meeting point between who creates and who watches, between an artist's idea and its representation on canvas.
Art is the reason of an artist's life, the fine line that links the hand of creaters to the crowd that is ready to listen.
Other work of Alexandra
Sale
Painting, 56x56x2 cm (w/h/d)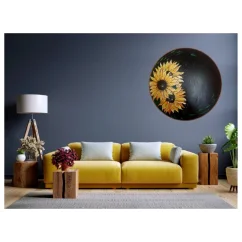 Painting, 56x56x2 cm (w/h/d)